Messaging
March 31st, 2020 by
Seth Arenstein
Sunday evening, many communicators breathed easier. The federal government aligned its message on coronavirus.
March 29th, 2020 by
Seth Arenstein
Both the president and his task force presented a united message on the potential severity of the novel coronavirus.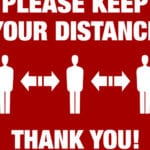 March 23rd, 2020 by
Seth Arenstein
There was good news and bad news this past weekend. The good news is that most people are heeding health best practices that communicators are broadcasting in a variety of ways (hand washing, distancing, remaining home etc). Unfortunately, a significant number of people in globally are ignoring these health communications. Assigning blame is not the issue. Getting nearly universal acceptance is.