PR News Blogger Network
The PR Implications of Judge Kavanaugh's Situation
Several principles of PR and crisis communications can be applied to the situation involving Judge Brett Kavanaugh and his accuser, Dr. Christine Blasey Ford. Now that Dr. Ford has identified herself, the issue has moved from the Senate to the court of public opinion, a venue where facts and legal arguments are sometimes immaterial. In this court, public perception is king.
2018 Social Media Awards
The winners of PR News' 2018 Social Media Awards span a wide variety of organizations, from brands like Volvo, PepsiCo, JP Morgan Chase & Co., IBM, Cisco and Bayer to agencies like Rogers & Cowan,… Continued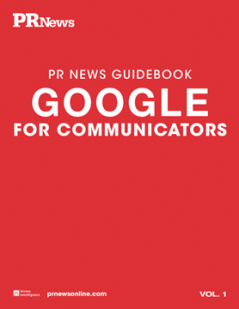 Professional communicators need help with Google and this guidebook offers eyeopening explanations of the vast possibilities of Google's tools and how other communicators have taken advantage of them. The Google for Communicators Guidebook will help… Continued
Crisis management is an art, not a science. In this edition of PR News' Crisis Management Guidebook: Strategies & Tactics, you will discover many different views on this art, and you are certain to find… Continued
Search PR agencies by area of expertise, location and more!