Crisis Management
FEMA Chief's Future May Depend on Public Perception
Mention the crisis FEMA is dealing with at the moment and most people probably think you're referring to the agency's work to assist residents of the Carolinas as they battle flooding from Hurricane Florence. Instead you could be thinking of the travel scandal challenging FEMA administrator Brock Long. Part of Long's problem is a PR issue: the government administrator brand is tainted.
2018 Social Media Awards
The winners of PR News' 2018 Social Media Awards span a wide variety of organizations, from brands like Volvo, PepsiCo, JP Morgan Chase & Co., IBM, Cisco and Bayer to agencies like Rogers & Cowan,… Continued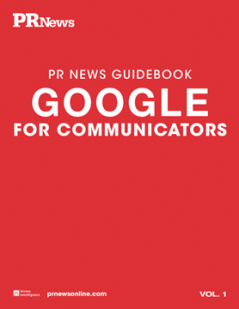 Professional communicators need help with Google and this guidebook offers eyeopening explanations of the vast possibilities of Google's tools and how other communicators have taken advantage of them. The Google for Communicators Guidebook will help… Continued
Crisis management is an art, not a science. In this edition of PR News' Crisis Management Guidebook: Strategies & Tactics, you will discover many different views on this art, and you are certain to find… Continued
Search PR agencies by area of expertise, location and more!