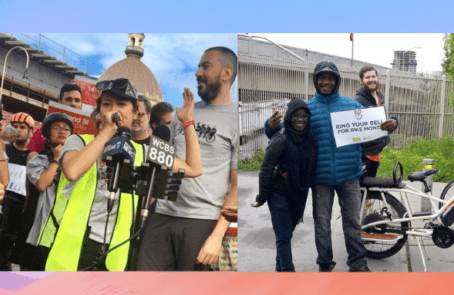 Nonprofit PR
Empowering Activists to Carry Your Message
PRNEWS staffer Sophie Maerowitz spends her off-hours volunteering for New York City cyclist, pedestrian and public transit advocacy organization Transportation Alternatives. At the start, she figured it would be the usual rabble-rousing stuff: showing up to protests, tweeting photos while holding up signs, et al. She now realizes it's that and much more. She offers tips from her experience at TransAlt that communicators can adapt to urge brand advocates to become involved in social issues.
2018 Social Media Awards
The winners of PR News' 2018 Social Media Awards span a wide variety of organizations, from brands like Volvo, PepsiCo, JP Morgan Chase & Co., IBM, Cisco and Bayer to agencies like Rogers & Cowan,… Continued
Numbers, Stats, Analytics: You may love it. You may hate it. Either way, it is a required skill these days, for all communicators. In this just published 10th edition of the PR News Measurement Guidebook… Continued
Crisis management is an art, not a science. In this edition of PR News' Crisis Management Guidebook: Strategies & Tactics, you will discover many different views on this art, and you are certain to find… Continued
Search PR agencies by area of expertise, location and more!