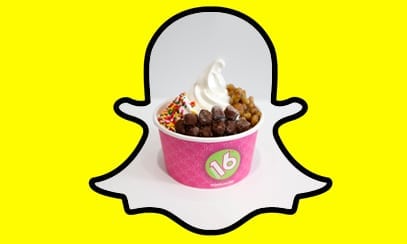 Nearly every marketer and PR professional is currently trying to figure out how best to use Snapchat, the disappearing messaging service that has become increasingly popular with young people. Nearly 20 percent of all social media users in the U.S. are on Snapchat and, according to The Wall Street Journal, the service currently processes nearly half a billion snaps per day.
If you're a brand who wants to engage on Snapchat but don't quite know where to start or if you should even be using the platform, here are some tips for getting off the ground courtesy of Lara Nicotra, associate manager of social and digital marketing at 16 Handles.
Don't force it. Snapchat is great, but just because all the cool kids are doing it doesn't mean it's right for you. Do your customers actually use the app? With the vast majority of Snapchat's users coming in under the age of 25, it needs to make sense with your brand's target audience. Besides the question of talking to the right audience, will you have enough content or resources to maintain it? Answer these questions before you move forward.
Find your voice. If Snapchat makes sense for your brand, you need to find a groove and own your voice on the platform. It may mean changing your tone a little. As social continues to evolve, we know that simply copying and pasting text for every platform won't work. Not only do you have different audiences across platforms but also your posts need to adapt to the medium.
Make it interactive. Don't just send the snaps—ask for them back. It's a fun way to execute a promotion and a great source of user-generated content. If you intend on sharing snaps from fans, be sure to get their permission first.
Don't try to be perfect. The nature of Snapchat is to be instantaneous and fun. That includes imperfections. Don't have your graphic designer make artwork and try to use it here. It doesn't belong on Snapchat, and you're wasting your time. Embrace the fact that you'll have to post on the fly because that's the whole point.
Fans are the VIPs. Snapchat is an easy way to make your fans feel special. This is your insider's channel, the VIP content. Use it to post those sneak peek brand moments. Testing something new? Early product launch? Your Snapchat fans are the ones who want to hear and see it first.
For more help with your Snapchat strategy, join PR News for our Snapchat webinar on Thursday, March 19, from 1:30-3 p.m. ET.
Follow Lara Nicotra on Twitter: @laranicotra
Follow Brian Greene on Twitter: @bwilliamgreene