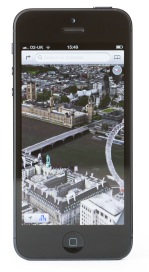 Apple CEO Tim Cook
apologized to the public
for the company's underwhelming
new map application, pictured here.
Apple may have lacked the programming and technical prowess to out-do Google Maps with its own map application, but it did have the roadmap for how to properly handle a crisis situation. Apple CEO Tim Cook took the company into new territory, offering an open letter of apology on Apple's Web site to address the public's outcry over Apple's shoddy new map application.
"With the launch of our new Maps last week, we fell short on this commitment," Cook said in the statement, which was first reported on by TechCrunch, referring to the company's goal to deliver the best experience to its customers.
The issue with the second-rate Apple maps application was immediately apparent when it launched its iOS6 software and iPhone, giving users directions into buildings and dead-ends. Apple purposely eliminated Google Maps from being automatically included with the device with the iPhone5 and its iOS6 software.
Many wondered how the company would fair under the direction of Cook compared to when Steve Jobs was at the helm. So far, it seems Cook may be more willing to open up to the public and admit product imperfections. Apple has never made such a public, open apology for a product before, according to TechCrunch—not even when it dealt with reception problems affecting the iPhone 4 in July 2010. Then, Apple offered a statement, software update, but not an official apology.
In his apology, Cook went as far as to recommend other applications over Apple's own. "While we're improving Maps, you can try alternatives by downloading map apps from the App Store like Bing, MapQuest and Waze or use Google or Nokia maps by going to their websites and creating an icon on your home screen to their Web app," he said in the statement.
Technology and map battles aside, Cook's apology highlights a tenet of basic crisis management: show true remorse and put your customer needs ahead of your business needs, for the time being.
Follow Bill Miltenberg: @bmiltenberg