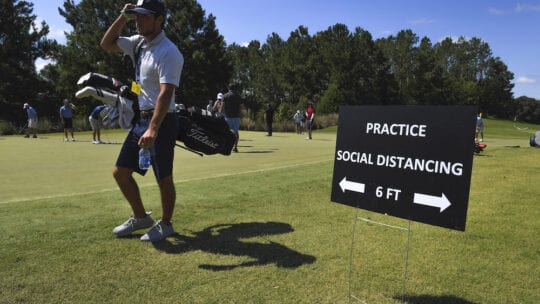 There's only so much professional cornhole one can watch. 
Thankfully good karma rained down on sports fans the past several weeks, with the relaunch of professional golf and European soccer leagues, the National Basketball Association and the National Hockey League releasing upcoming tournament formats, and just yesterday Major League Baseball came to an agreement with its players association, announcing an official return for a shortened season beginning in July. 
But with those returns come challenges. It's not only the configuring of a shortened or limited season but ensuring employee and player safety through a global pandemic. Dr. Anthony Fauci, director of the National Institute of Allergy and Infectious Diseases, said it's impossible to determine if the National Football League and college programs should return in the fall. And it seems as though every other day we hear of an athlete testing positive for coronavirus, most recently top-ranked professional tennis star Novak Djokovic following an exhibition series he organized called The Adria Tour. 
But sports always continues to land on its feet, providing followers with a much-needed distraction from the current 2020 summer of woe. It can provide a real sense of uplift and pride for many, and those leagues and teams that show a real transparency and care for their participants will win with the public as well. So how should these entities communicate to stakeholders that restarting sports is a viable option?
Messaging Priorities
Carita Parks, CEO and founder of Parks Public Relations —where she works with organizations, nonprofits and athletes — is also a credentialed freelance sports journalist who has covered major events such as Super Bowl, NFL Draft, NFL Honors, NBA Draft, and the WNBA Finals. Her combination of experience provides unique insight into what sports communicators need to zero-in on for this unique situation.
"Reopening professional sports amid coronavirus is not business as usual," Parks said. "Teams and leagues will not be able to approach their communications strategy in the same way that they normally do. My recommendation is to start the process by assessing public sentiment. If you review social media and other resources, there are actually mixed emotions about leagues moving ahead with their seasons. Some of the most avid sports fans are distracted by current events such as the pandemic, unemployment, strained race relations, and protests."
From there, Parks said, it's imperative to put business aside and deliver a message of empathy and realism, addressing public concerns first. 
"The most important messaging to deliver is how teams plan to ensure the health and safety of fans, employees, officials, media, and other essential personnel," she said. "Health and safety will have to be at the forefront of all communications efforts."
PGA TOUR Provides Communications Model
One of the first professional sports leagues to resume competition, the PGA TOUR had the initial opportunity to inspire and play a major role in the sports' world's return in a safe and responsible manner. Laura Neal, SVP of media content for the PGA TOUR, said its communications strategy stemmed from "health, safety and well-being of all PGA TOUR constituents being the highest priority" when planning for its return.
To start the league developed a partnership among the PGA TOUR, Player Advisory Council, Player Directors, leading medical experts and government agencies. The Player Advisory Council consists of 16 PGA TOUR athletes and meets weekly to consult with the constituents on issues affecting the TOUR. 
"We developed a comprehensive health and safety plan that would be considered a best practice among professional sports leagues," Neal said. 
The communications strategy also placed a very high importance on transparency, with safety being understood as the top priority.
"We have disclosed testing numbers to the media each week, and are disclosing any adjustments we make in regard to our health and safety plan based on what we are learning," Neal said. 
Responsibility to Fans
Because of ongoing concerns regarding the spread of coronavirus, many sports will feature empty stands this season. However, if fans are allowed in the coming months, communicating with them will be of utmost importance. 
"If fans are allowed, there should be a series of communications informing attendees about onsite changes to the game experience," Parks said. "Some considerations include number of fans allowed at the event and procedures related to seating, concessions, restroom access, face masks, shuttle capacity (some leagues provide shuttles from parking garages, etc.), and limits on the number of people who can enter through the gates at one time. Leagues/teams will also need to clarify their plan of action if fans are exposed to COVID-19."
And if fans have to remain home while their favorite teams battle it out, Parks said teams should be ready with other opportunities that can allow for fan engagement. 
"In most states, large gatherings are prohibited and social distancing still applies," she said. This will impact normal fan activities such as tailgating, pre-game events, and party zones. Therefore, we should expect an increased use of virtual solutions and new technologies. Many teams implemented virtual parties during the NFL and WNBA Drafts. I wouldn't be surprised if we begin seeing virtual tailgating and gameday fan parties incorporated into communications strategies. Teams have also shifted to virtual media availabilities with players and coaches. This will likely continue moving forward."
As many fans anticipate the return of more professional sports, the pressure will continue for sports communicators as the virus also continues on.
Nicole Schuman is a reporter for PRNEWS. Follow her @buffalogal