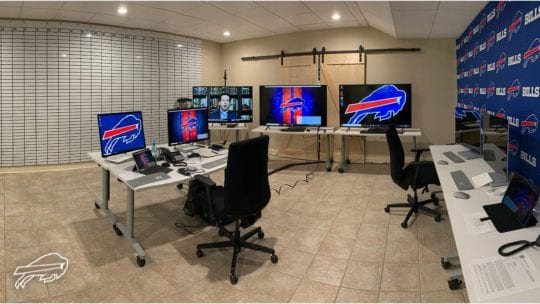 In a world without professional sports, the National Football League will provide a reprieve to fans looking for live action with this week's NFL draft. In what may be the most highly-anticipated COVID event to date (sorry, Lady Gaga), teams wrangled players and coaches and general managers into a web of wires and wifi, in the hopes that the draft will not only entertain, but function smoothly for the newest class of professional recruits. 
"How the NFL draft performs virtually will be the test-case for major sporting events for the foreseeable future," said Brett Cummings, senior vice president at FleishmanHillard. "All eyes are on the league, partners and brands to use this moment to re-engage sports fans, who are hungry for the return of live sports, in the most direct way, while still not being tone deaf to current realities."
Teams leaned into this challenge via social media to virtually ignite the excitement of the draft and engage followers. Many included behind-the-scenes footage of draft offices and rooms in the homes of coaches, general managers and staff who will be making the picks. 
The San Francisco 49ers posted a video from head coach Kyle Shanahan's surprisingly unimpressive office setup, featuring cameos of his more impressive family.
Coach's crib, #49ersDraft style!

Kyle Shanahan takes us for a tour of his home office set up ahead of the #NFLDraft.https://t.co/Yv5YAzRjZK #StayHomeStayStrong pic.twitter.com/bTRZcptNZN

— San Francisco 49ers (@49ers) April 23, 2020
The Buffalo Bills tweeted photos of general manager Brandon Beane's war room, much more impressive, which seems to span an entire floor of his home. 
Welcome to Brandon Beane's Home Draft Room. 💯#NFLDraft | #GoBills pic.twitter.com/JnCYdgHsa2

— Buffalo Bills (@BuffaloBills) April 23, 2020
The content leading up to the main event encourages a spirit and anticipation that the public could certainly use right now. Particularly behind-the-scenes looks which create a feeling of team and inclusivity—something for people to revel in who may be feeling quite isolated right now. 
Some brands also followed suit, seeing the distinct opportunity to connect with audiences and feed into some fans favorite parts of the draft, which even includes booing. 
For those unfamiliar with the NFL draft, public attendees spare no feelings when it comes to expressing their general dislike for commissioner Roger Goodell. Many fans voice their frustration for soaring ticket prices, team moves, player safety and even league domestic violence issues by booing Goodell. The commissioner whole-heartedly receives this negative chorus every draft, as he announces each pick as it comes in at a podium surrounded by this audience. This year, he'll enjoy the quiet confines of announcing from his basement, but Bud Light Seltzer made sure he would still hear the boos. 
WE NEED MORE BOOS! ❤️ this Tweet for a reminder to #BooTheCommish when the Draft starts on Thursday! For each #BooTheCommish thru April 25, Bud Light Seltzer will give $1 to NFL Draft-a-Thon up to $500K. pic.twitter.com/rUewEqKKaI

— Bud Light Seltzer (@budlight) April 22, 2020
Cummings said agencies were encouraging brands to find an authentic voice in regards to the draft. What could be more authentic than booing?
"We have counseled clients to be authentic and still find an appropriate balance in messaging, but to lean in to the appetite among communities for the return of the NFL and reassurance of the return of sports more broadly," she said. "Specifically, we are helping clients participate in the draft conversation by dropping new, exclusive NFL content and providing unique virtual experiences that excite fans, and offering insider access and perspectives from top talent as they themselves watch the Draft unfold in real-time."
If Bud Light's virtual booing and NFL executives' basements can excite fans, we can't wait to see what other brands have come up with for the opening night of the draft.