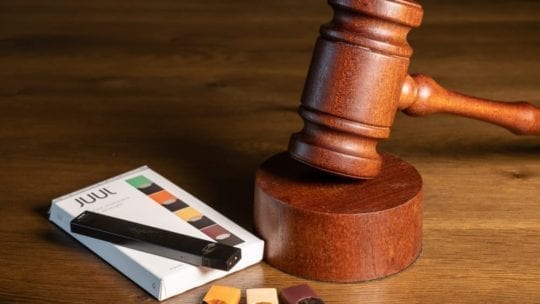 JUUL Labs, the now ubiquitous e-cigarette manufacturer whose pocket-sized vaporizers work with its propriety pods of nicotine liquid, has found itself in a free fall over the past few months.
In June, the company's own city of San Francisco announced a ban on the sale and use of e-cigarette devices pending approval from the FDA. The ban is set to take effect in early 2020.
At the end of September, CEO Kevin Burnes resigned. Altria (the brand that owns Marlboro) executive K.C. Crosthwaite replaced him. In addition, the company announced it would stop selling flavored pods.
This came amidst reports of vaping-related illnesses and deaths across the U.S., some from users of cannabis oils. Others were JUUL users. This week, JUUL flushed most of its executive board. It also announced plans to cut around 500 jobs by year's end.
No smoke, plenty of fire
"As the vapor category undergoes a necessary reset, this reorganization will help JUUL Labs focus on reducing underage use, investing in scientific research, and creating new technologies while earning a license to operate in the U.S. and around the world," Crosthwaite told Business Insider October 29.
Of course, if the U.S. Attorney's Office for the Northern District of California had launched a criminal investigation against your brand, and your valuation plummeted, you'd acknowledge it was time to clean house, too.
Filed by JUUL's former SVP of global finance, the suit, claiming that the company knowingly shipped 1 million tainted products, doesn't exactly support the millennial narrative that JUUL's success is being sabotaged by the big tobacco lobby.
Mea Culpa
And to think, just over a year ago, I praised JUUL for its deft handling of accusations that it was intentionally marketing to kids. I lauded its then-new policies to halt online sales of its flavored cartridges, delete its social media accounts, and otherwise remove itself from any element of youth culture.
More impressive to me, still, was JUUL's calls for outside regulation. "This could have easily have been a moment of crisis for JUUL Labs...after The New York Times published a lengthy investigative report Monday detailing the company's history of marketing its sleek, easy-to-use vaporizer to underage consumers," I wrote. "Instead, the fact that nothing nuclear happened to JUUL Labs this morning is a testament to the brand's 'proactive, not reactive' approach to reputation management."
Hindsight being 20/20, it is now clear that JUUL was not proactive enough—it didn't have any medical research to get out in front of reports about illnesses and deaths. Similarly the brand failed to protect itself from what certainly seems like a big tobacco takeover. (Crosthwaite's Altria acquired a majority stake when it  valued JUUL at $38 billion. It invested $12.8 billion late last year for a 35% stake).
Self-Regulation never works
The lesson is one that bears repeating: no innovative brand can be trusted to regulate itself. Every tech journalist in the world practically screamed this at Facebook last week when the social network announced a slew of new features intended to combat disinformation and election interference.
And if you don't think that Facebook's past grievances have cost many lives, we urge you to investigate the social network's role in the genocide of the minority Rohingya Muslim population in Myanmar.
As many have pointed out, Facebook's commitment to labeling disinformation as false, but not outright removing it, stinks to high heaven. These solutions also still seem a far cry from former tech executive Senator Mark Warner's thorough paper on what social media regulation can, and should, look like.
Look at Boeing and its never-ending wave of scandals. The safety tech on its 737 Max 8 aircraft was not properly inspected, nor were pilots properly trained on how to operate the tech. It later came out that Boeing is allowed to certify its aircraft as having passed inspection. Sound familiar?
Self-Regulation and entitlement can't co-exist
In each instance where something went unregulated—from vaping to Facebook to Boeing—entitlement and an unchecked status as being the leader in each respective industry allowed abuse of power to exist, and self-regulation to be ineffective. JUUL dominated as industry leaders in this blossoming e-cigarette space, as did Facebook with its respective dominance of the social network market. Similarly, Boeing has enjoyed its status as arguably the dominant airplane manufacturer in the world.
All of this harkens back to Sir John Dalberg-Acton's adage, "Absolute power corrupts absolutely." We can split hairs all day over what constitutes a monopoly or an oligopoly, but those discussions can distract from a takeaway that's clear. It's high time to stop framing regulation as an issue about whether or not "big government" has a right to police business owners. In all instances where regulation has failed this country over the past several years, what's transpired has literally become a matter of life and death. And death is always bad PR.