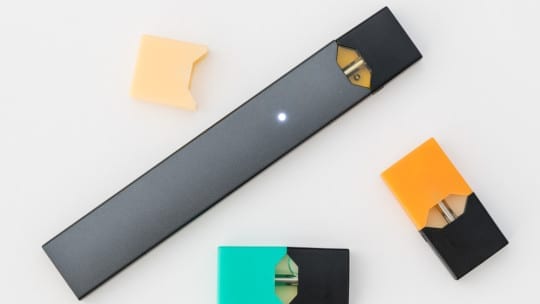 This could have easily have been a moment of crisis for JUUL Labs, manufacturers of the eponymous JUUL e-cigarette vaporizer, after The New York Times published a lengthy investigative report Monday detailing the company's history of marketing its sleek, easy-to-use vaporizer to underage consumers.
Instead, the fact that nothing nuclear happened to JUUL Labs this morning is a testament to the brand's "proactive, not reactive" approach to reputation management.
JUUL Labs posted a statement supporting federal regulation for e-cigarettes and vaporizers on Aug. 23—one day before The Times ran a piece on Big Tobacco's social media strategies. Whether or not the brand had impending knowledge of the big JUUL story that that was about to drop in The Times the next week, the timing of its latest statement seems to be no coincidence:
Statement from JUUL Labs on the @US_FDA's efforts regarding e-cigarette packaging and marketing. @FDAtobaccopic.twitter.com/DuFkSoZUmW

— JUUL (@JUULvapor) August 23, 2018
JUUL Labs' public support for regulation (optimized for social shares) resonates as a perfectly executed PR move not just because of its timing, but because it casts the brand's efforts at positioning itself as a solution to quitting smoking in a legitimate, not cynical, light. Contrasted with other big brands' resistance toward regulation—ride-sharing apps like Uber and Lyft and social media platforms like Facebook come to mind—JUUL Labs has doubled down on its stated intentions behind adjusting its brand image for an older audience, matching its actions with its words.
The strategy echoes an increasingly popular sentiment that certain industries have far more to gain from embracing regulation than resisting it. The logic here is that regulation will repair trust with consumers, and repaired trust will drive new customers to your platform or product, thus creating a win-win scenario for both brand and the customers.
Understanding that the sanctity of that trust lies much more with actions than words, JUUL Labs CEO Kevin Burns has also published a series of open letters on the brand's website that detail the extent the brand's comprehensive strategy to encourage regulation, including a lobby to raise the age for purchase of tobacco products to 21+ and a $30 million investment over the next three years dedicated to independent research, education and community outreach around the dangers of smoking.
"Underage use is never acceptable," Burns wrote in a letter this past May. "However, neither is it acceptable for those of us at JUUL to not fully commit ourselves to helping the 38 million smokers in the U.S. and the one billion smokers globally when we believe we have the ability, technology and sheer wherewithal to achieve this goal. We recognize this is a difficult balancing act, and to be successful we welcome the guidance, dialogue and even intense scrutiny from those who also seek real solutions to both of these important issues."
Underage smoking had already found its villain long ago in Big Tobacco. All JUUL Labs had to do was brand itself as the underdog, the disruptor and the innovator. After that, it's been pretty easy for the brand to sell itself as part of the solution. Of course, artfully-timed public statements and consistent brand messaging don't hurt, either.
Follow Justin: @Joffaloff