Despite the well-documented changes in the field of communications and public relations press outreach skills are still most important for PR pros to advance in their careers. Communicators still need to be adroit in two of the profession's main (and traditional) pillars: media relations and written communication, according to PR News' 2013 Salary Survey.
Both corporate and agency PR execs are now being tasked with new digital and social marketing disciplines that were unheard of in communications circles just a few years ago, such as social media, content marketing and media buying.
But traditional PR dies hard, apparently. According to the Salary Survey, the two skills still valued as most important for advancement within an organization are media relations (57.1% of respondents) and written communication (56.3%). Content creation was deemed third most important (43.8%), which reflect the growing changes in PR sparked by online communications.
Given today's focus on PR measurement, it's surprising that just 15% cited measurement as an important skill to have for advancement in the field: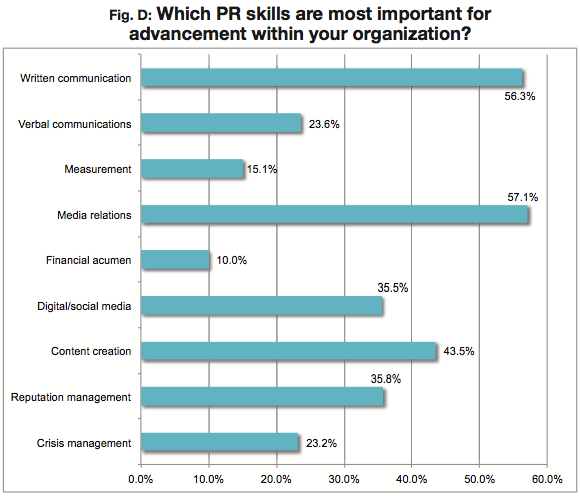 The information within PR News' latest Salary Survey Report will help illuminate some key questions you may have about jobs, salaries and employment data within the world of public relations
Follow Bill Miltenberg: @bmiltenberg