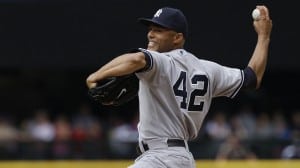 Man, can he pitch. Not stories to overworked journalists, mind you, but a screaming "cut" fastball that has befuddled hitters for nearly 20 years. As Mariano Rivera prepares to play his last game at Yankee Stadium Thursday night, here are a few PR lessons from the greatest closer in Major League Baseball history.
> Keep your cool. Rivera, a surefire Hall of Famer who will go down as one of the greatest Yankees ever, was the definition of grace under pressure. Whatever the situation—coming in to save a tight game early in the season or the late innings of a World Series game—Rivera kept emotion at bay. In the same vein PR pros have to constantly keep things on an even keel, regardless of how hairy the situation they find themselves in, whether it's dealing with a crisis that's taking on a life of its own or a client unhappy with the media coverage of his brand.
> Don't get too high or too low. Whether it was helping the Yankees win five World Series rings or suffering a lost season like the one that's about to end, Rivera didn't get too high or too low. It was all about keeping his game face. Ditto for PR pros. If you win a big account, say nothing and get down to the work at hand; if you lose a big account, say little and figure out what might have gone wrong. But don't get carried away by the successes or laid low by the failures. Keep on honing your PR skills with the goal of getting every campaign, press release or social marketing effort right across the plate.
> Embrace adversity. When Rivera was shagging fly balls in May 2012 and blew out his right knee, it would have been understandable if the all-time saves leader decided to pack it in and call it a career. Not Mo. He vowed not to go out that way. The legendary reliever underwent surgery on a torn ACL last year and returned for this year's season no worse for wear, converting his first 18 save opportunities in a row, per ESPN. Instead of chasing fly balls PR pros are chasing the shiny new things on the digital front. It's a challenge to make all these tools work and find a way to measure their value. You might get burned and suffer some professional strains. But as traditional PR channels become subordinate to social media, PR execs—just like Mo—need to meet these challenges head on and have the confidence that they will eventually beat them.
Follow Matthew Schwartz: @mpsjourno1