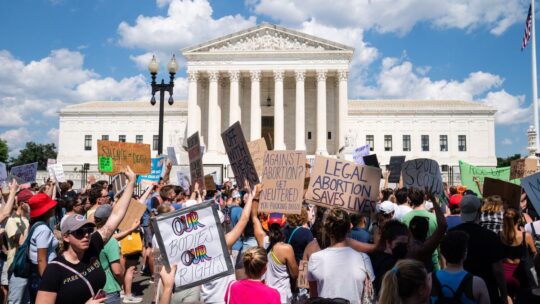 From a communication perspective, Roe v Wade messaging is carefully complex. For years, standard practice for in-house communicators and agency PR pros urged silence on political and social issues, at least publicly.
That won't work any longer.
Instead, PR pros should employ action-oriented messaging. On a hot-button topic such as this, we cannot stay silent. We have become too comfortable building an illusion instead of being brutally honest about what's in front of us.
A seismic shift occurred late last month. Women are deeply hurt. They are furious. The elimination of a fundamental right greatly raises concerns about the country's direction.
Moreover, we are living in an unprecedented era. Calls for bold, transformative change are getting louder. Major cultural, political and economic moments are colliding. As such, PR pros are shapeshifting into socio-political communicators, regardless of their industry sector.
Indeed, communicators must have a sense of duty. It is our right to serve the public. We have a responsibility to inform, educate, protect and assist internal and external groups.
Accordingly, we can't stay silent. Through proper advocacy and crisis communication we have become activists.
Tell stories
We must continue to tell stories, particularly of poor and marginalized women. In addition, we must support and protect all women without worrying about consequences.
Similarly, our job is informing the public about dangers women now will endure. As such, we must educate all sides, listen critically and arrive at viable solutions.
Since most of us in PR are female, you'd think in-house pros and especially those at agencies would be at the forefront of this issue, leading conversations on reproductive health and equality.
Yet some businesses are pulling off a performative corporate face or simply avoiding the subject.
Yes, several companies will cover travel and reimburse employees seeking abortions. In addition, some are making, adjusting and/or matching donations, launching collaborations with women-led nonprofits, signing legislative-led initiatives supporting comprehensive health care and other relevant actions.
Still, can't companies do more?
Beyond embedding reproductive care in health plans, companies by now should insure women have equal pay. And flexible work-life balance. What about gender representation?
It is time to challenge the system. Clearly, it is not working.
PR's role
As storytellers, we must relay critical policy decisions that influence women's lives. It's our job to hold those in power accountable. We speak for those without a voice, including employees and other stakeholders. Audiences and employees demand action, not words.
Regardless of your stance on Roe, as PR pros we must address the below, among other issues:
expanding universal healthcare
implementing paid family leave (maternal and paternal)
developing solutions for the education ecosystem
fixing foster care, which is in shambles
overhauling benefits structures so they can assist new mothers while incorporating housing, economic and career programs for women
How to do it
Driving misleading narratives is ineffective. Instead, we must inform people about root causes of this nation's issues before we can repair anything. A policy-driven mindset is imperative when focusing on social and public affairs. Facts, transparency and inclusivity are powerful tools.
For communication teams spearheading a response, make sure you are in full alignment with HR and senior executives on internal communication of the company's position, benefits, future assistance and support.
In addition, chart goals and objectives, gauge staff sentiment, inventory communication and employee-advocacy tools and consider timing.
Don't ignore encouraging employees to share their advocacy work with external audiences.
However, carefully oversee such activities and fully inform other departments about it.
In addition, engage with ERGs (Employee Resource Groups) on initiatives that further women's causes. And coordinate internal events, whether one-on-one, small audience or company-wide. Town halls, fireside chats and panels can help generate conversation among staff.
Certainly, some will advise that remaining quiet is the best route. Stay in your lane, these people will say. In addition, some people are tired of socio-political issues intertwining with business.
However, this time there is no escape. Silence is not an option. We must challenge the entire system or we're complicit.
Yesenia Reinoso is founder & principal of Y Communicate
[Editor's Note: The writer's views do not necessarily reflect those of PRNEWS. We invite opposing essays from readers.]