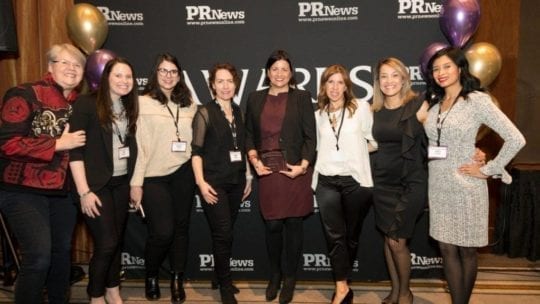 Founders. Innovators. Mentors. Leaders. And millions, maybe even billions of media impressions.
Women serve as the backbone of the public relations industry. More than 75 percent of PR jobs in the United States are held by women, and the PRNEWS' Top Women in PR awards will honor an elite group of these professionals who have worked to inspire not just those in the boardroom, but throughout the creative circuit.
PRNEWS' 2020 Top Women in PR will be celebrated with a luncheon ceremony on Jan. 28 at Gotham Hall in New York City.
Winners were judged based on their campaign objectives, successes and ROI over the last year, as well as their overall influence within their organizations and the PR profession at large.
Keynoting the luncheon will be Judith Harrison, senior vice president, diversity and inclusion at Weber Shandwick, who works as a tireless advocate for women and people of color. Harrison drives programs designed to build a culturally agile workforce that leverages diverse backgrounds and perspectives in order to launch innovative campaigns for clients and create an inspiring, high-performance workplace.
In addition to her work at Weber Shandwick, Harrison's experience also includes communications positions and projects at Burson-Marsteller, Ernst & Young, CBS, Media General, Random House and the Italian Trade Commission. She is immediate past president of the PRSA Foundation and two-term president of New York Women in Communications, which works to support women in communication disciplines at every stage of their careers and is the largest awarder of communications scholarships to women in the U.S.
The full list of Top Women in PR honorees is below. Profiles of each winner will be available following the ceremony in January.
Jodi Amendola, Amendola Communications
Angel Aristone, iHeartMedia
Leigh Anne Arnold, DCG Communications
Genevieve Aronson, Nielsen
Alexandra Avila, Spherical PR
Barbara Barrett, Impact Public Affairs
Amy Binder, RF|Binder
Laura Bishop, Oral Roberts University
Carrie Bloxson, DoSomething.org
Roni Boyles, NRT, LLC
Linda N. Brown, The Huntington National Bank
Kira Caban, Protenus
Paula Carrera, Torres y Carrera
SungIn Cho, Samsung Electronics America
Jennifer Clark, Sony Interactive Entertainment
Ashley Collins, USANA Health Sciences
Paola Cuevas, Carolyn Izzo Integrated Communications
Kelsey Cullen, KCPR
Brett Cummings, FleishmanHillard
Chloe D'Angelo, DeVries Global
Beth Dann, Corning Incorporated
Kate DiCarlo, The Procter & Gamble Company
Rebecca Dorfman, Zumba Fitness
Liza Burnett Fefferman, Viacom - MTV, VH1, CMT + Logo
Nikki Festa, PAN Communications
Catherine Fisher, LinkedIn
Maggie FitzPatrick, Exelon Corporation
Karen Flanagan, Project Management Institute
Beth Friedman, Agency Ten22
Gabrielle Simpson Gambrell, Barnard College
Laurie Goldberg, Discovery and Science Channel
Lauren Gongora, BODEN
Hilary Gowins, Illinois Policy Institute
Emily Graham, FleishmanHillard
Ruth Guerra, CLS Strategies
Caitlin Gullickson, CLS Strategies
Molly Gutterud, Northcentral University
Krystyna Hall, NBCUniversal Telemundo Enterprises
Judith Hosang, DeVries Global
Jackie Jags, Chick-fil-A
Camille Johnston, Siemens
Chaka Jordan, Blessing Health System
Sara Joseph, BerlinRosen
Janice V. Kapner, T-Mobile
Elizabeth Kenigsberg, SKDKnickerbocker
Binna Kim, Vested
Coleen King, King Media
Michelle King, Dunkin' Brands
Cameron Klaus, Tupperware Brands
Stephanie Kneisler, Zebra Technologies
Kristie Kuhl, Finn Partners
Kendra Barkoff Lamy, SKDKnickerbocker
Kristen Leathers, Version 2.0 Communications
Torri Leeds, DeVries Global
Nicole Leverich, LinkedIn
Liv Lewis, Egami Group
Janice Maiman, Association of International Certified Professional Accountants
Sue Mallino, SunTrust Banks, Inc.
Catherine Mathis, McGraw-Hill
Heather McIntyre, Dunkin' Brands
Alison McNally, FleishmanHillard
Gulden Mesara-Dogan, Walgreens Boots Alliance
Kathryn Metcalfe, CVS Health
Ilissa Miller, iMiller Public Relations
Maggie Moran, Kivvit
Nisha Morris, City of Hope
Barbara Osborn, Northwell Health
Sperry Mylott, Travelers
Leilani Pearl, Parkinson's Foundation
Michelle Peters, Choice Hotels
Cortney Read, Offerpad
Michele Reese Granger, HistoryMiami Museum
Amandine Robin, Pernod Ricard
Michelle Martinez Reyes
Rachel Riley, Valley Forge Tourism & Convention Board
Stephanie Rogers, American Foundation for Suicide Prevention
Barrie Rosen, Consumer Reports
Karen Shosfy, Viacom
Annelisa Sichel, PGA TOUR
Julie R. Snyder, BlueCross BlueShield of Western New York
Lissette Steele, Verge Scientific Communications
Patricia Stortz, AT&T Communications
LaTonya Taylor, Wheaton College
Regina M. Tracy, Axalta Coating Systems
Ania Treszczotko, Sage Communications
Therese Van Ryne, Zebra Technologies
Blakeley Vaughn, Sephora
Dini von Mueffling, Dini von Mueffling Communications
Anne Woodbury, CURA Strategies