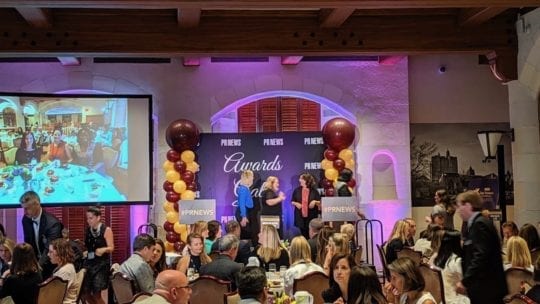 Healthcare is without a doubt one of the most impactful, polarizing and challenging spaces in which to work in PR. And being a woman in any industry is also a challenge.
At the Women in Healthcare Communications Awards Luncheon at the Yale Club, PRNEWS recognized a handful of women who are not only owning their senior communications leadership roles in the healthcare space, but also striving in their jobs to improve the health and wellbeing of us all.
"It's not lost on me that 50 years ago, there weren't events like this, honoring women in business," said Melissa Kozak, of Citus Health, one of the finalists.
PRNEWS also honored Rising Stars who are climbing through the ranks due to their dedication to mentoring, innovating and supporting their teams in accomplishing major goals and producing effective campaigns.
[See profiles of all the winners of the Women in Healthcare Awards here.]
Finalists were judged on their achievements, campaigns, leadership, and application of PR tenets, creativity and flexibility. Our jury also looked at demonstration of sound judgment, volunteer efforts and academic achievements for each contender.
Dr. Jennifer Mieres, the keynote speaker and noted cardiologist and author, talked about the process of identifying a critical health issue—in her case, womens' risk of heart disease—and using strategic communications to get the public to pay attention. She was leveraging influencers before that was even "a thing," building on the buzz around the topic created when Oprah and Dr. Oz talked about the risks on their respective shows. Through a multilayered communications effort and multiple campaigns, the threat of heart disease for women gained real estate in the public consciousness.
PRNEWS' primary focus is education for our vast audience of PR and communications professionals. In keeping with this, winners and honorable mentions were asked to answer a question in order to share a bit of their knowledge with their peers.
The honorees agreed that data and analytics is perhaps the most promising technological tool for advances in both healthcare and the way they communicate around it. And they described the most joyful aspects of their jobs, including being a mentor, the human connections created by working in the healthcare field, and "when all the pieces fit together."
All the women honored at this event capture the inspiring combination of public relations at its finest and the incredible work they do behind the scenes to make sure the public has the information it needs to maximize health and quality of life.