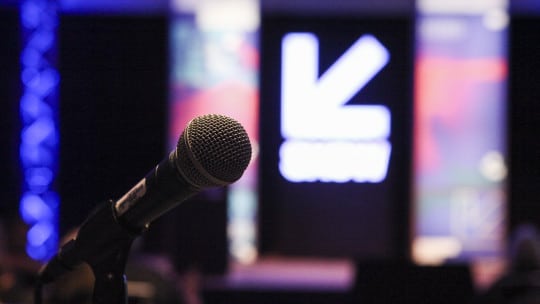 The annual South by Southwest (SXSW) conference—a week-long spectacle filled with experiential marketing stunts and immersive brand experiences that's equal parts technology, education and entertainment—always offers plenty of style and substance for professional communicators.
While SXSW doubles as a high-profile platform for brands to build awareness and launch new products, it also boasts a lineup of high-level speakers, including marketing luminaries like Ann Handley, Uber's chief brand officer Bozoma Saint John and GE's CMO Linda Boff.
For those unable to attend, many sessions will be live-streamed. Here are five fascinating interviews and keynotes that communicators who want to experience a bit of the magic happening in Austin next week will want to catch.
The Company We Keep: Melinda Gates Keynote, March 11
Melinda Gates will lead an interactive roundtable session centered on how the American workplace is evolving. The panel—which also includes Joanna Coles, chief content officer at Hearst Magazines, CEO of online marketplace TaskRabbit Stacey Brown-Philpot, and noted entertainment lawyer Nina Shaw—will explore issues of inclusion and diversity, with a focus on how new technologies, business models and social movements are redefining what it means to go to work.
Interview With Hannah Hart and Lina Renzina, March 12
Brands that believe cause marketing is the future of brand marketing—and nonprofits with small budgets—will want to tune in to this interview between the Ad Council's Lina Renzina and YouTube influencer Hannah Hart. Both will be featured on a panel, "Social Media & Social Good: Creators to The Rescue," with Lucinda Barlow, Google's Global director of YouTube Marketing. The panel will explore how brands and influencers can best work together at the intersection of social media and social good.
Reaching for Truth: Unlocking the Power of Human Creativity for Storytelling in Virtual and Augmented Reality, March 13
Nonny de la Peña, a pioneer of virtual- and augmented-reality (also known as the "Godmother of VR") will discuss her personal journey toward developing storytelling strategies for these emerging applications. The CEO and founder of Emblematic Group, a creator of virtual reality experiences, will explore "how human creativity and technology can work together to create engaging narratives and life-changing experiences."
Interview With Google's Director of Engineering, Ray Kurzweil, March 13
Ray Kurzweil is something of a modern-day Thomas Edison. Some of his inventions include the first print-to-speech reading machine for the blind and the first commercially marketed speech-recognition program. He even won a Grammy for developing the first synthesizer capable of recreating the grand piano. Now a director of engineering at Google, Kurzweil will discuss the possibilities and implications of artificial intelligence and how he believes this new form of hybrid intelligence will help solve some of humanity's greatest challenges.
Interview with Dan Harris, March 13
Those looking for some discussion about mindfulness should enjoy this chat with Dan Harris, co-anchor of "Nightline" and "Good Morning America." After experiencing a panic attack live on air during a "Good Morning America" broadcast, Harris went on a journey of self-discovery that led to his best-selling book, "10% Happier"—also the title of a subsequent mindfulness app he invented and a podcast he hosts, which has featured guests like the Dalai Lama.
Follow Jerry:@Jascierto