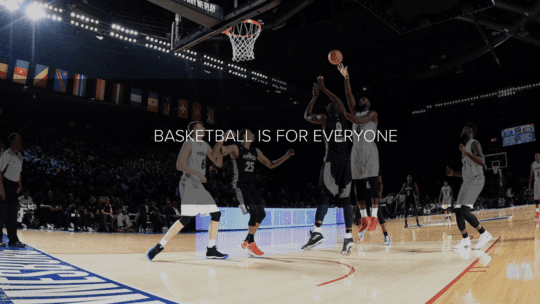 [Update: 11/2/22, 11:45 p.m. ET: In a statement, Brooklyn Nets' player Kyrie Irving, the Nets and the Anti-Defamation League (ADL) confirmed the player and team will donate $500,000 toward anti-hate groups.
In addition, Irving took responsibility for his actions, but stopped short of apologizing.
"I oppose all forms of hatred and oppression and stand strong with communities that are marginalized and impacted every day. I am aware of the negative impact of my post towards the Jewish community and I take responsibility. I do not believe everything said in the documentary was true or reflects my morals and principles. I am a human being learning from all walks of life and I intend to do so with an open mind and a willingness to listen. So from my family and I, we meant no harm to any one group, race or religion of people, and wish to only be a beacon of truth and light."]
***
Tropes of antisemitism from another public figure resurfaced one week after Adidas dropped Ye, formerly Kanye West. This time it's Kyrie Irving, a Brooklyn Nets' star, who tweeted a link to a 2018 documentary many consider antisemitic, "Hebrews to Negroes: Wake Up Black America."
Questioned about the tweet Oct. 29, Irving defended his freedom to post. Some fans and organizations condemned his statements.
On Nov. 1 court-side fans donned "fight antisemitism" shirts.  The New York Post reported the NBA, Nets and NBPA posted statements about Irving, but never mentioned his name. 
The ADL met Oct. 28 with Nets owner Joe Tsai and the NBA. Subsequently Tsai publicly chastised Irving. 
On Nov. 2, the New York Daily News reported Irving's father and stepmother met with the ADL. Irving was not present. 
In statement from ADL spokesperson, the organization said it hopes "to have an opportunity to soon" speak with Irving.

"We were pleased that he deleted the problematic post but we believe it is crucial that Kyrie speak out clearly and quickly to condemn antisemitism."

(cont)

— Stefan Bondy (@SBondyNYDN) November 2, 2022
As of publication (Nov. 2), the Nets and NBA have not punished Irving. 
[Update: 11/3/22, 7:30p.m. ET: The Nets suspended Irving for at least five games without pay. Hours later, Irving issued an apology.]
[Update: 11/4/22, 9p.m. ET: Nike ended its partnership with Irving.]
Media Backlash
In addition to the t-shirt protest, some media members, particularly in sports, denounced Irving and questioned the NBA. 
"The NBA dropped the ball," former NBA player and TNT analyst Charles Barkley said Nov. 1. Irving "should be suspended." Barkley said a celebrity like Irving influences public opinion.
"When you are somebody that's great at basketball like him, people are going to listen to what you say."
Barkley believes "it's too late" now for the NBA to act. 
Mike Freeman, race and equity editor-sports, USA Today, wrote: 
"Every Irving or Ye racist uttering like this chips away at that moral authority we possess.
Yes, it's true there are thousands of Black athletes and only a handful have said these ugly things, and to be certain, not every Black athlete feels this way. But enough do. Too many do. I don't know how we got to this point. I just know we're here."
Upholding DEI Values
Brand purpose is no longer trendy. Instead, consumers expect organizations to uphold and defend certain values. In recent years, the NBA was a shining example of DEI outreach.  
"Throughout its history, and especially in the two-plus years since George Floyd, the NBA has worked to differentiate itself and its brand from other major sports leagues as inclusive and even actively anti-racist," says Gregg Morton, founder & CEO, Fooji, a brand-engagement firm. "But moments like these, where one of the league's most prominent stars has made openly antisemitic comments, are an inflection point."
Clearly, the NBA or any brand that reacts slowly risks fracturing public trust. 
"In general, to avoid situations that risk potential reputational damage, brands must be consistent with their past actions and agile in their capacity to respond," Morton says.
And consistency raises another issue. In September, the NBA fined player Anthony Edwards $40,000 for gay slurs.
In addition, the NBA promotes its slogan, "Basketball is for everyone," on its inclusion website. Moreover, NBA commissioner Adam Silver is Jewish. So, where does the line enforcing values begin and end?
[Update: 11/3/22, 11:55 a.m.: Silver says in a statement he is "disappointed that [Irving] has not offered an unqualified apology."]
"Brands need to walk the walk when it comes to their ESG commitments and strategies," says Nicole Guillot, Cision COO and president, PR Newswire. "We've seen a correlation to lower consumer sentiment when brands are slow to react to public controversies…."
The NBA should hold itself accountable "and act in accordance with their philosophy, which reflects their values and mission," Guillot adds.
The Ticking Communication Clock
The slow response of Adidas to Kanye West sent its stock price tumbling. As Barkley stated above, is it too late for the NBA to recoup fan sentiment? 
Eric Yaverbaum, CEO of Ericho Communications, agrees with Barkley. The NBA should have acted sooner and "made it clear that antisemitism has no place in basketball," he says. 
Waiting put the NBA and the Nets into dangerous "season-long territory" and invites "significant reputation damage," he adds.
Timing, Yaverbaum notes, is everything at this moment. 
"The longer the NBA stands idly by and affiliates itself in any positive way with Irving, the more insincere its position on diversity and inclusion will seem...."
Nicole Schuman is senior editor for PRNEWS. Follow her @buffalogal