Rorschach (PR) Test: Everyone sees the role of
public relations through a different prism.
We recall an old friend who worked in public relations for more than 40 years. From the time he got into the business—and for the following 20 years or so—his father never could quite comprehend what he did for a living.
Our friend would go to great lengths to explain that, as a PR executive, he helped companies and people to communicate the value of their product, services or ideas. (We're dating ourselves, but this was pre-Internet Age.)
He wrote press releases, brochures and annual reports; cultivated relationships with reporters and editors who had a vested interest in covering his clients and, depending upon the client, made sure that the company or person was kept out of the media.
Even resorting to hand puppets to demonstrate how PR works didn't do the trick, and our friend's father went to his grave still not quite sure what his son did for a living.
Now, decades later, it turns out that misconceptions about the PR function remain alive and well.
Earlier this week, we took an informal poll on our Facebook page, asking, "What's the one PR misconception you'd like to clear up?"
The poll garnered nearly 50 interesting (and varying) responses. Here's a sample:

Ragini Bhalla: "That PR means (only) writing a press release and boom, you're done. It's about creating and distributing unique content across multiple channels—all to build brand awareness, support sales/drive ROI and position as a thought leader in the space."

Laura Dolman: "That we're still just 'spin doctors' trying to deceive everyone."

Newton Holt: "That we're all out to pull the wool over the public's eyes and make the despicable look palatable."

Christian Hunter: "That media relations is the only component of PR."

David Talley: "That if you're a people person, that you'd be good at PR."
What do you think? We'd love for you to chime in.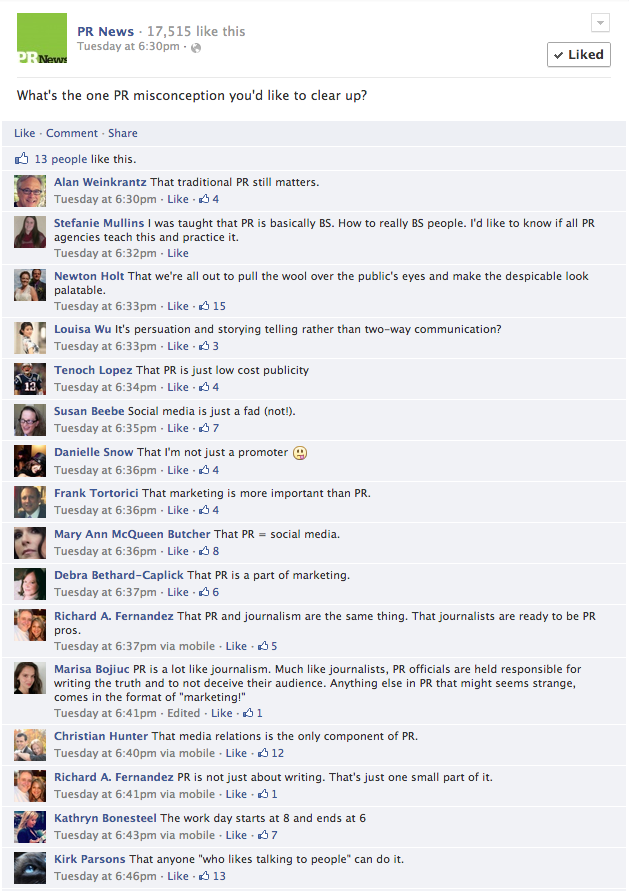 Follow Matthew Schwartz: mpsjourno1