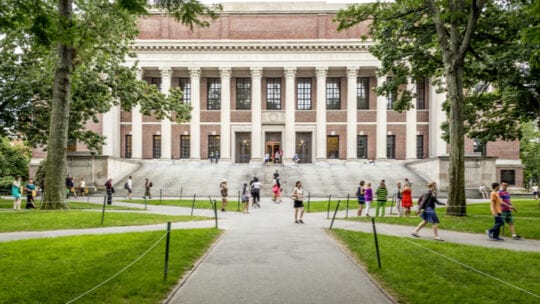 Our inaugural Education A-List is designed to spotlight the top 35 educational institutions advancing the careers of PR and communication professionals in the U.S.
We shine the spotlight on public and private institutions of higher education across the country. Many of the schools on the list offer a variety of learning options for students—from part-time and fulltime to online and hybrid opportunities—in an effort to meet the needs of those also currently working in the field.
Institutions applied to the A List late last year. To compile the list, we looked at how the programs prepare students for continued success in their existing jobs and along their future career paths. These schools continue to evolve their program offerings to reflect the changing nature of the field of communication and ensure students learn about emerging trends. Extracurricular offerings beyond the classroom include everything from lunch and learns to student-run interdisciplinary firms.
AMERICAN UNIVERSITY SCHOOL OF COMMUNICATION
Location: Washington, D.C.
Hybrid Offerings: Yes
Course Options: Fulltime/Part-time/Online Only
Specializations: Communication Studies/Interpersonal Communication, Crisis Management, Global and International Communication, Health Communication, Media/Digital/Mass Communication, Journalism, Social Media, Organizational, Corporate Communication, Political Communication, Public Relations, Marketing Communications, Strategic Communication, Social Change and Advocacy Communication
Admissions Contact: Stephanie Rucker [email protected]
More Info: https://www.american.edu/soc/communication

BOSTON UNIVERSITY
Location: Boston, MA
Hybrid Offerings: No
Course Options: Fulltime/Part-time
Specializations: Communication Studies/Interpersonal Communication, Crisis Management, Health Communication, Media/Digital/Mass Communication, Journalism, Social Media, Organizational/Corporate Communication, Political Communication, Public Relations, Marketing Communications, Strategic Communication, Non-Profit Communication, Public Relations Ethics, Media Relations, Business Fundamentals for PR
Admissions Contact: Bill Taylor, [email protected]
More Info: https://www.bu.edu/com

COLUMBIA UNIVERSITY
Location: New York, NY
Hybrid Offerings: Yes
Course Options: Fulltime/Part-time/Online
Specializations: Strategic Communication
Admissions Contact: [email protected]
More Info: [email protected]
COLUMBUS STATE UNIVERSITY
Location: Columbus, GA
Hybrid Offerings: Yes
Course Options: Fulltime/Part-time/Online
Specializations: Communication Studies/Interpersonal Communication, Crisis Management, Media/Digital/Mass Communication, Journalism, Social Media, Organizational, Corporate Communication, Political Communication, Public Relations, Marketing Communications, Strategic Communication
Admissions Contact: Danna Gibson, [email protected]
More Info: https://catalog.columbusstate.edu/academic- units/arts/communication/communication- public- relations- track/
FULL SAIL UNIVERSITY
Location: Winter Park, FL
Hybrid Offerings: No
Course Options: Fulltime/Part-time/Online Only
Specializations: Communication Studies/Interpersonal Communication, Crisis Management, Informatics/Information Science, Media/Digital/Mass Communication, Journalism, Social Media, Public Relations, Marketing Communications, Strategic Communication, Legal Aspects of Media, Public Relations Tools and Resources, Event Marketing and Production, Reputation Management Strategies, Online Media Room
Admissions Contact: Tom Lacroix [email protected]
More Info: https://www.fullsail.edu/degrees/public-relations-master
GEORGE MASON UNIVERSITY
Location: Fairfax, VA
Hybrid Offerings: Yes
Course Options: Fulltime/Part-time
Specializations: Communication Studies/Interpersonal Communication, Crisis Management, Global and International Communication, Health Communication, Media/Digital/Mass Communication, Journalism, Social Media, Organizational, Corporate Communication, Political Communication, Public Relations, Marketing Communications, Strategic Communication, Strategic Environmental Communication
Admissions Contact: Catherine Wright, [email protected]
More Info: https://communication.gmu.edu/
GEORGE WASHINGTON UNIVERSITY
Location: Washington, D.C.
Hybrid Offerings: Yes
Course Options: Fulltime/Part-time/Online Only
Specializations: Global and International Communication, Political Communication, Public Relations, Marketing Communications, Strategic Communication, Government Communication and Public Affairs
Admissions Contact: Ryan Arey, [email protected]
More Info: https://gspm.gwu.edu/
GEORGETOWN UNIVERSITY
Location: Washington, D.C.
Hybrid Offerings: Yes
Course Options: Fulltime/Part-time/Online Only
Specializations: Brand Safety/Diversity, Communication Studies/Interpersonal Communication, Crisis Management, Global and International Communication, Media/Digital/Mass Communication, Journalism, Social Media, Organizational, Corporate Communication, Political Communication, Public Relations, Marketing Communications, Strategic Communication
Admissions Contact: Tom Pattiz,[email protected]
More Info: https://scs.georgetown.edu/prcc
GRAND VALLEY STATE UNIVERSITY
Location: Allendale, MI
Hybrid Offerings: No
Course Options: Fulltime/Part-time
Specializations: Communication Studies/Interpersonal Communication, Health Communication, Public Relations, Marketing Communications
Admissions Contact: Jodi Chycinski, [email protected]
More Info: https://www.gvsu.edu/soc/advertising- public- relations- major- 47.htm
HOWARD UNIVERSITY
Location: Washington, D.C.
Specializations: Communication, Culture and Media Studies; Media, Journalism and Film; Strategic, Legal and Management Communication
Admissions Contact: [email protected]
More Info: https://communications.howard.edu/
JOHNS HOPKINS UNIVERSITY
Location: Washington, D.C.
Course Options: Online
Specializations: Applied Research in Communication, Political Communication,  Digital Communication, Public and Media Relations, Health Communication, Corporate and Non-Profit Communication
Admissions Contact: [email protected]
More Info: https://advanced.jhu.edu/
LOYOLA UNIVERSITY
Location: Baltimore, MD
Hybrid Offerings: No
Course Options: Fulltime/Part-time/Online Only
Specializations: Health Communication
Admissions Contact: Erin Richardson, [email protected]
More Info: https://www.loyola.edu/academics/emerging-media
MEDILL SCHOOL AT NORTHWESTERN UNIVERSITY
Location: Evanston, IL
Hybrid Offerings: Yes
Course Options: Fulltime/Part-time/Online
Specializations: Brand Safety/Diversity, Media/Digital/Mass Communication, Journalism, Social Media, Strategic Communication, Consumer Insight and Analytics
Admissions Contact:  Julie Collins, [email protected]
More Info: https://www.medill.northwestern.edu/imc/index.html
MONMOUTH UNIVERSITY
Location: West Long Branch, NJ
Hybrid Offerings: Yes
Course Options: Fulltime/Part-time
Specializations: Communication Studies/Interpersonal Communication, Crisis Management, Global and International Communication, Media/Digital/Mass Communication, Journalism, Social Media, Organizational, Corporate Communication, Political Communication, Public Relations, Marketing Communications, Strategic Communication
Admissions Contact: Kevin New, [email protected]
More Info: https://www.monmouth.edu/graduate/ma- communication/public- relations- concentration/
NORTHEASTERN UNIVERSITY
Location: Boston, MA
Hybrid Offerings: Yes
Course Options: Fulltime/Part-time/Online Only
Specializations: Crisis Management, Organizational, Corporate Communication, Public Relations, Marketing Communications, Strategic Communication, Cross Cultural Communication; Human Resources Management; Social Media; Leadership; Project Management; Digital Media
Admissions Contact: Vanessa Bush, [email protected]
More Info: https://cps.northeastern.edu/program/master-of-science-in-corporate-and-organizational-communication-online/
NORTHERN ARIZONA UNIVERSITY
Location: Flagstaff, AZ
Hybrid Offerings: No
Course Options: Fulltime/Part-time/Online Only
Specializations: Communication Studies/Interpersonal Communication, Crisis Management, Health Communication, Media/Digital/Mass Communication, Journalism, Social Media, Organizational, Corporate Communication, Political Communication, Strategic Communication, Documentary Studies, Science Communication
Admissions Contact: Maribeth Watwood, [email protected]
More Info: https://nau.edu/communication/
PURDUE UNIVERSITY
Location: West Lafayette, IN
Course Options: Online
Specializations: Health Communication, Interpersonal Communication. Organizational Communication, Media Technology & Scoiety, Public Relations
Admissions Contact: Bart Collins, [email protected]
More Info: https://cla.purdue.edu/
QUINNIPIAC UNIVERSITY
Location: Hamden, CT
Hybrid Offerings: No
Course Options: Fulltime/Part-time/Online Only
Specializations: Crisis Management, Global and International Communication, Health Communication, Media/Digital/Mass Communication, Journalism, Social Media, Political Communication, Strategic Communication
Admissions Contact: Terry Bloom, [email protected]
More Info: https://www.qu.edu/schools/communications/programs/bachelors-degree/public-relations/
ROWAN UNIVERSITY
Location: Glassboro, NJ
Hybrid Offerings: Yes
Course Options: Fulltime/Part-time/Online Only
Specializations: Communication Studies/Interpersonal Communication, Health Communication, Media/Digital/Mass Communication, Journalism, Social Media, Public Relations, Marketing Communications, Strategic Communication
Admissions Contact: Amanda Kuster, [email protected]
More Info: https://ccca.rowan.edu/departments/publicrelationsadvertising/index.html
RUTGERS UNIVERSITY
Location: New Brunswick, NJ
Hybrid Offerings: Yes
Course Options: Fulltime/Part-time/Online
Specializations: Communication and Media Research, Communication and Media Studies, Corporate Purpose and Social Impact, Digital Media, Health Communication, Leadership Communication, Public Relations, Strategic Organizational Communication
More Info: https://comminfo.rutgers.edu/
SETON HALL UNIVERSITY
Location: South Orange, NJ
Hybrid Offerings: Yes
Course Options: Full-time/Part-time
Specializations: Communication Studies/Interpersonal Communication, Global and International Communication, Media/Digital/Mass Communication, Journalism, Social Media, Organizational, Corporate Communication, Public Relations, Marketing Communications, Strategic Communication
Admissions Contact: Amanda Carcione, [email protected]
More Info: https://www.shu.edu/academics/ba-public-relations.cfm
SYRACUSE UNIVERSITY
Location: Syracuse, NY
Hybrid Offerings: Yes
Course Options: Fulltime/Part-time/Online Only
Specializations: Crisis Management, Media/Digital/Mass Communication, Journalism, Social Media, Organizational, Corporate Communication, Political Communication, Public Relations, Marketing Communications, Strategic Communication, Technical Communication
Admissions Contact: Karen McGee, [email protected]
More Info: https://newhouse.syr.edu/
TALLADEGA COLLEGE
Location: Oxford, AL
Hybrid Offerings: Yes
Course Options: Full-time/Part-time
Specializations: Media/Digital/Mass Communication, Journalism, Social Media
Admissions Contact: Luis Almeida, [email protected]
More Info: http://www.talladega.edu/academics/dhfa.asp
TEMPLE UNIVERSITY
Location: Philadelphia, PA
Hybrid Offerings: Yes
Course Options: Full-time
Specializations: Brand Safety/Diversity, Communication Studies/Interpersonal Communication, Crisis Management, Global and International Communication, Health Communication, Informatics/Information Science, Media/Digital/Mass Communication, Journalism, Social Media, Organizational, Corporate Communication, Political Communication, Public Relations, Marketing Communications, Strategic Communication, Technical Communication
Admissions Contact: Frank Bowman, [email protected]
More Info: https://klein.temple.edu/
TEXAS CHRISTIAN UNIVERSITY
Location: Fort Worth, TX
Hybrid Offerings: No
Course Options: Fulltime/Part-time
Specializations: Health Communication, Public Relations, Marketing Communications, Strategic Communication, Advertising
Admissions Contact: Nancy Davis, [email protected]
More Info: https://schieffercollege.tcu.edu/stratcomm/
UNIVERSITY OF ARKANSAS
Location: Fayetteville, AR
Hybrid Offerings: Yes
Course Options: Fulltime/Part-time/Online Only
Specializations: Crisis Management, Global and International Communication, Media/Digital/Mass Communication, Journalism, Social Media, Organizational, Corporate Communication, Public Relations, Marketing Communications, Strategic Communication
Admissions Contact: Larry Foley [email protected]
More Info: https://fulbright.uark.edu/departments/journalism/
UNIVERSITY OF COLORADO BOULDER
Location: Boulder, CO
Hybrid Offerings: Yes
Course Options: Fulltime/Online Only
Specializations: Global and International Communication, Health Communication, Informatics/Information Science, Media/Digital/Mass Communication, Journalism, Social Media, Organizational, Corporate Communication, Political Communication, Public Relations, Marketing Communications, Strategic Communications
Admissions Contact: Toby Hopp, [email protected]
More Info: https://www.colorado.edu/cmci/aprd
UNIVERSITY OF DELAWARE
Location: Newark, DE
Course Options: Fulltime/Partime/Online
Specializations: Interpersonal Communication, Media Communication, Political Communication, Public Relations
Admissions Contact: James Angelini, [email protected]
More Info: https://www.communication.udel.edu/
UNIVERSITY OF FLORIDA
Location: Gainesville, FL
Hybrid Offerings: Yes
Course Options: Fulltime/Part-time/Online Only
Specializations: Brand Safety/Diversity, Crisis Management, Global and International Communication, Health Communication, Media/Digital/Mass Communication, Journalism, Social Media, Organizational, Corporate Communication, Political Communication, Public Relations, Marketing Communications, Strategic Communication, Sports, Political Communication
Admissions Contact: Marcia DiStaso, [email protected]
More Info: https://www.jou.ufl.edu/current- students/current- undergraduate/current- academics/public-relations/
UNIVERSITY OF MARYLAND
Location: College Park, MD
Specializations: Communication Science & Social Cognition, Public Relations & Strategic Communication, Rhetoric & Political Culture
Admissions Contact: Xiaoli Nan, [email protected]
More Info: http://www.comm.umd.edu/
UNIVERSITY OF WISCONSIN OSHKOSH
Location: Oshkosh, WI
Hybrid Offerings: No
Course Options: Fulltime/Part-time
Specializations: Media/Digital/Mass Communication, Journalism, Social Media, Organizational, Corporate Communication, Public Relations, Marketing Communications, Strategic Communication, Advertising
Admissions Contact: Ann Kunke-Jones, [email protected]
More Info: https://uwosh.edu/journalism/
UNIVERSITY OF WISCONSIN-WHITEWATER
Location: Whitewater, WI
Hybrid Offerings: No
Course Options: Online
Specializations: Health Communication, Media/Digital/Mass Communication, Journalism, Social Media, Organizational, Corporate Communication, Strategic Communication
Admissions Contact: Corey Davis, [email protected]
More Info: https://www.uww.edu/online/masters/communications
USC ANNENBERG SCHOOL FOR COMMUNICATION AND JOURNALISM
Location: Los Angeles, CA
Hybrid Offerings: No
Course Options: Fulltime/Part-time
Specializations: Communication Studies/Interpersonal Communication, Global and International Communication, Health Communication, Informatics/Information Science, Media/Digital/Mass Communication, Journalism, Social Media, Organizational/Corporate Communication, Political Communication, Public Relations, Marketing Communication, Computational Public Relations, Digital, Interactive and Converged Communication, Sports and Entertainment, Civic Engagement, Lifestyle Public Relations, Media & Entertainment Management, Health & Social Change Communication, Media, Culture and Community, Information, Political Economy and Entertainment, Political Economy of Global Communication, New Media and Technology
Admissions Contact: Allyson Hill, [email protected]
More Info: https://annenberg.usc.edu/
VIRGINIA STATE UNIVERSITY
Location: Petersburg, VA
Hybrid Offerings: Yes
Course Options: Fulltime
Specializations: Brand Safety/Diversity, Communication Studies/Interpersonal Communication, Crisis Management, Global and International Communication, Health Communication, Informatics/Information Science, Media/Digital/Mass Communication, Journalism, Social Media, Organizational, Corporate Communication, Political Communication, Public Relations, Marketing Communications, Strategic Communication, Technical Communication
Admissions Contact: Joseph Suber, [email protected]
More Info: www.vsu.edu
YORK COLLEGE OF PENNSYLVANIA
Location: York, PA
Hybrid Offerings: Yes
Course Options: Fulltime/Part-time
Specializations: Public Relations, Marketing Communications, Strategic Communication
Admissions Contact: Cortnie Amelotte, [email protected]
More Info: https://www.ycp.edu/academics/graham- school- of- business/programs/public- relations/