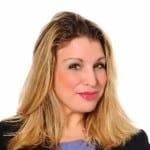 2017 PR People Awards - PR Leader of the Year
Co-Winner: Jodi Brooks, Chair, U.S. Technology Practice, Burson-Marsteller
Within a month of taking leadership, Jodi Brooks led what Harold Burson calls one of the most significant new business wins in the history of the agency. Having lost SAP as a client, Brooks realized she had a goldmine of PR talent whose knowledge of enterprise software and tech reporters would be attractive to an SAP competitor—and she was right.
Oracle named Burson-Marsteller agency of record and Brooks and her team were off and running. Within six months, the team had won 22 new clients; diversified its portfolio among Fortune 500, challenger and start-up clients; increased client revenue by double digits and maintained a near perfect client retention rate.
One of the key shifts Brooks made in Burson-Marsteller's technology practice was the diversification of its portfolio. She led the way by showing and teaching the (largely enterprise technology) team how to conduct consumer technology PR. One of the first clients she won was Nixplay, which wanted to increase sales of its Wi-Fi cloud-connected photo frames during the holidays. Over three months, Brooks and team helped secure more than 30 holiday gift guide reviews for Nixplay, including placements in CNBC, CNN, Good Housekeeping, the Wall Street Journal and WebMD among others.
Nixplay exceeded its sales goals, experienced 43 percent year-over-year revenue growth and even ran out of units due to the enormous increase in demand—which the company's CEO attributed to Burson-Marsteller's efforts. With this and other initiatives, Brooks led the team in expanding its portfolio and skillset through creativity, meticulous application of PR best practices and dedication.
Brooks also co-led a team seeking to help Burson-Marsteller's technology clients navigate business and policy changes under President Trump. She partnered with colleagues across the agency to commission the Burson-Marsteller Age of Trump Technology Policy Survey, with the goal of exploring attitudes toward the future of tech under Trump's administration.
The team announced and promoted the findings at the Consumer Electronics Show and hosted a cocktail reception with reporters form Mashable, the New York Times and USA Today.
Co-Winner: Atle Erlingsson, Head of Communications, North America, SAP
Atle Erlingsson has been described as a natural-born leader. He's also authentic. Erlingsson manages to run a lean team of eight to serve 20-plus executive leaders and internal communications (22,000 employees), CSR and media relations, coordinating with other global layers of the organization.
One of the most successful campaigns SAP launched late last year, in an effort to continue its strong diversity and leadership goals, was a gender pay equality initiative.
SAP hired an outside firm to analyze what it pays men and women and to ensure equal pay—not discrimination by gender. In 97 percent of cases the firm found pay equality, and in the 3 percent where they did not, SAP made adjustments to affected employees' pay.
Erlingsson drove an internal campaign to make employees proud, and a successful media campaign that got coverage in Forbes, Fox and CNBC in September. It continued reaping benefits with an August Wall Street Journal story. Additionally, the initiative will now expand beyond the U.S. to other countries, which is a huge shift for the tech industry.
Erlingsson has led a number of key initiatives ranging from employee communications to media, crisis to CSR to government relations. For instance, he led the integrated plan wherein SAP was named for the first time to Fortune's Top 100 workplaces. This included a video with messages from George W. Bush, Arianna Huffington, Peyton Manning and others that Erlingsson helped secure free of charge. 
Honorable Mentions:
Christine Blake, Account Director, W2 Communications—Christine Blake's media relations skills have successfully developed her clients from emerging players to market leaders, changing the conversations on her client's technologies from "why is it needed?" to "why isn't everyone using this?" For Cigital, a software security solutions provider, Blake and her team secured a cover story in Automotive Industries magazine on the future of safe, connected, autonomous vehicles.
Lauren de la Fuente, VP, Marketing and Communications, Boingo Wireless—Lauren de la Fuente's relationships with the media have earned Boingo the best PR coverage it has ever received in the history of the company, while simultaneously helping to raise its stock price to an all-time high in September 2017.
Ben Klein, SVP, Healthcare, Ruder Finn­—Ben Klein recently turned a burned out, overburdened team into a motivated force that worked on a client's incredible new therapy to fight cancer. The team worked to heavily promote the FDA approval of the therapy, earning a front-page story in the New York Times (among other leading outlets). The media called the FDA approval a new era for cancer therapy, and the client said she "couldn't live without" Klein's team.
John LaPlace, Associate Director, National Public Relations Leader, Ernst & Young LLP—In a time when uncertainly is owning the headlines­—regarding issues like Brexit, the U.S. election, earthquakes and hurricanes­—John LaPlace has counseled the firm's leadership on the best communications approaches to these sensitive and nuanced subjects. His work ensures that internal and external messages align even in tumultuous times.
Karl Oestreich, Director, Media Relations, Mayo Clinic—The Mayo Clinic's National Health Check-Up is a twice-annual consumer survey that takes a pulse on health-related topics. Karl Oestreich's work on the survey secured not just basic media outreach, but also a widely used infographic and satellite media tours. Overall, his work garnered 25 media interviews, and an estimated four million media impressions for each survey.
See all the winners and honorable mentions for PR News' 2017 PR People Awards.