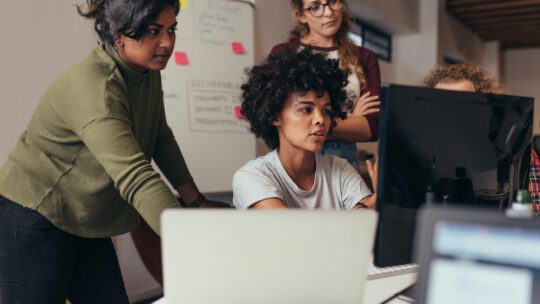 The idea that earned media can propel the growth of a new company is not a new one. But neither is it a simple one. PR for a startup is a very specific brief in itself, and often involves enlisting a myriad of skills a PR professional might not typically employ—at least, not in unison.
A larger enterprise may have an in-house marketing manager, an SEO agency already on retainer, branding and messaging well-established and integrated, and even a HubSpot integration to be able to channel leads from earned media into the sales funnel. A PR professional or agency may then serve as an extension of that team, leveraging a founder's voice to land op-eds and distribute milestone news stories that all link back to driving more traffic to the website, as well as leads into the pipeline.
Startups, however, often run much leaner. You plug in at an earlier, pivotal, stage of growth and, for many, this is hugely rewarding. The results of your work have a tangible impact.
However, as the head chef of sorts, you'll need to 'cook' from scratch. Not every startup will have all of this in place, and if they don't, it pays to recognize if they're even ready for PR. Building the right foundation not only helps you to land results—it ensures that coverage makes a tangible impact.
We often talk about PR being part of a team of marketers and knowing how to perform your role as part of that team. A restaurant serving fine dishes amidst a calm ambience hides the chaos of the kitchen behind the scenes.
Joltingly juxtaposed to the welcoming atmosphere front of house—the story they want to tell—is the deafening cacophony of hurried labour, where each chef owns their station and works busily in unison to prepare the exquisite dishes served to diners. Similarly, the best PR results that drive business impact encompass a myriad of activities from messaging, copywriting, pitching, brand strategy, SEO optimization and more.
Many founders make the mistake of trying to do everything on a bootstrapped budget. However, a stretched budget and resources will rarely lead to a strong foundation for any brand. With eyes set on the next investment round, brand image matters, and it's often a more impactful strategy to do less with more. Many agencies may be tempted to offer a 'bit of everything' at a low rate, but a more strategic and impactful scope of work is more effective.
Preparing the Foundation to Support PR Results 
Like any PR strategy, starting with the 'why?' is key. Is the goal to elevate the brand to gain attention from investors, or is it to primarily drive revenue by generating leads through online traffic? In both cases, branding matters. A startup might get a fantastic profile piece in a business trade magazine, but if their website looks poorly designed and fails to represent their brand story, then the company missed an invaluable opportunity to make an impressive first impression for visitors who arrived off the back of coverage. Similarly, if the website's SEO isn't optimized, that won't compensate for any backlinks gained—the holy grail of digital PR.
Knowing when to kickstart a media relations campaign might entail pressing pause on media relations and bringing in other marketing experts to build the best foundation. For example—web design, SEO and brand. Just like an open house for a new property, not only is it easier to get people through the door with stunning photography and marketing materials, even if attendance is impressive, a house with unfinished building work is less likely to convert viewings into offers.
Strategize, but Plan for Your Plans to Change
Ultimately no startup aims to remain one; they plan for growth. You need to be prepared for frequent change—an agile game strategy—and to level up as the startup grows. If your relationships with other marketers, in different disciplines, are as strong as your relationships with press, you will be an invaluable asset to helping a founder accelerate startup growth. Recommendations based on trust and experience go a long way. Founders have more to lose if things don't work out—whether it's a brief that isn't clear, or just the wrong match.
Time, Trust and Tactics: Key Ingredients
Founders are not marketing and communications professionals. They must hire PR and marketing support without much foresight of understanding or experience in the discipline. They might not know where to begin, who to hire, or what to do first: whether SEO or lead gen, web design or PR. Marketing and PR are vital elements to startup growth, but they refer to an expansive, all-encompassing discipline that can as easily lead to loss as it can to growth, without the right strategy and partner. Your role is always to drive growth; not just coverage, and knowing where to start, and with whom, is key.
Roxanne Kingsman is Director at Spreckley Startup Growth Hub and Spreckley PR