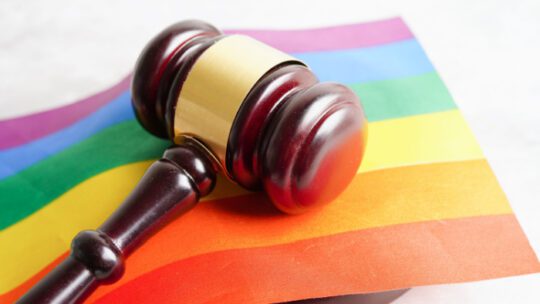 With Pride Month underway, we've seen no shortage of headlines about brands facing criticism for supporting the LGBTQ+ community— causing companies, such as Target and Bud Light, to backpedal their support.
In our industry, there will always be opposition; however, as communications leaders, we should always do what is right for our communities, customers and employees, even when it's uncomfortable.
When taking such stances, it's one thing for companies to support issues through their corporate social responsibility programs; it's another thing to walk the walk.
Leading Change Internally and Externally
At R&R Partners, we strive to do both. Promoting equality and supporting inclusivity within our communities is in our DNA. Our 50 years of independence have empowered us to lead change in our communities, while some agencies bound to holding companies and shareholders may shy away from taking such public positions and choose to remain silent, particularly after witnessing other brands experience friction.
Since the 1990s, we have been actively involved in legislative efforts to secure equal rights for the LGBTQ+ community. Our CEO co-chaired the opposition to the constitutional ban on gay marriage in California during the Prop 8 era. We supported nondiscrimination in the workplace, granted parental leave to same-sex parents before it became a common practice, and we extended survivor benefits and health care decision-making rights to same-sex couples. We also helped pass domestic partnerships in Nevada and led the fight for gay marriage by actively participating in a lawsuit, in which my now husband and I were plaintiffs, which resulted in Nevada becoming the first state to legalize gay marriage in the state constitution.
We've also shown our commitment to equality in our work, including with the Las Vegas Convention and Visitors Authority, which has been recognized by the GLAAD Awards. As the agency of record, we understand how important the LGBTQ+ community is for travel and tourism. In 2018, we showcased Las Vegas as an inclusive destination in its advertising in "Now & Then." The viral video garnered 18 million views across owned and paid channels.
Taking Action
As communications leaders, it is our responsibility to champion LGBTQ+ equality and ensure our leadership and clients understand the importance of taking a holistic approach to diversity, equity and inclusion.
Start by understanding your audience, including customers and employees. Then, take action by:
Encouraging employee-driven initiatives: Create a safe space for employees to voice their concerns and recommend avenues for taking action. Employee resource groups foster a culture of inclusivity and ensure decision-making processes are guided by diverse perspectives. For those living in states where anti-trans and anti-LGBTQIA+ legislation is under consideration, our government affairs team equips employees with resources to identify what they can do in their state to support the community and combat upcoming legislation. Putting employees in the driver's seat will also attract talented individuals who seek to align themselves with companies that share their beliefs.
Partnering with community organizations: Any agency, independent or not, can show their support by forging partnerships with local LGBTQ+ organizations and community leaders through board membership, pro bono support or identifying partnership opportunities for clients seeking community involvement. We are proud participants in the Project 47 Pledge, an initiative that uplifts and empowers LGBTQIA+ employees in the advertising industry through mentorship, and I encourage other agencies to participate in this initiative.
Embracing diversity in communications: Ensure campaigns and creative content are inclusive and representative of diverse communities. This will establish credibility with a brand and will help to create a sense of belonging and acceptance, both internally and externally.
By standing up for what's right and aligning values with your business practices, you can create a positive impact and inspire change within our industry and communities.
Let us all embrace the spirit of Pride Month and commit ourselves to creating a more inclusive and equitable world for our employees and community.
Fletcher Whitwell is Partner and Chief Media & Publishing Officer at R&R Partners.