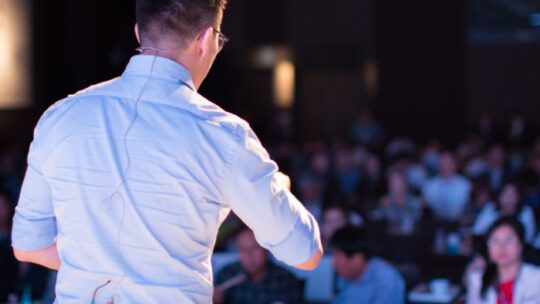 Securing speaking engagements presents an exceptional avenue to not only display your, your executive's or your clients' expertise and thought leadership but also expand your reach to a wider audience. Yet, attaining these opportunities demands an approach that involves strategic planning, thorough research and compelling pitching. 
Start Broad
First, consider a wide range of topics and associations. Look beyond your immediate industry and explore conferences and events that cover a range of topics. Utilize search engines and examine where speakers similar to you or your executives have spoken before. 
"There are many options for organizations who may be interested in your topic -- they don't have to be interested in [only] your industry," emphasizes Charlene Wheeless, CEO and Principal of Charlene Wheeless, LLC, who has delivered keynote speeches to institutions such as the US Air Force Academy, Cisco, SAIC and many others.
"While my focus lies in empowering employees and fostering intentional leadership through my signature topic, Choice Not Chance, I have encountered delightful surprises from potential clients who initially expected me to speak solely on Communications or DE&I," adds Wheeless. "In the end, it is my broader perspective that captivates them and fosters a receptive environment for meaningful change."
She also advises tapping into your professional connections, industry associations and colleagues to vouch for your expertise and connect you with relevant speaking opportunities.
Polish Your Online Presence
Prior to pitching yourself or your executive as a speaker, it's critical to establish a strong online presence that showcases your expertise, thought leadership and previous speaking engagements.
"A common mistake I see is that speakers ignore their social channels and online content," cautions Wheeless.
When organizers consider a speaker, one of the first things they do is search for them online. LinkedIn, for example, offers a free opportunity to establish yourself as a thought leader in your industry. With millions of professionals actively engaged on the platform, LinkedIn provides a prime stage to share your expertise, insights, and valuable content with a vast audience. By consistently posting thought-provoking articles, engaging in meaningful discussions, and actively participating in relevant groups, you can position yourself as a trusted authority in your field.
Suzanne Forte, Public Relations Director at Comcast adds, "Having a great story to tell has consistently proven to be one of the most effective strategies in securing speaking engagements." 
Tailor Your Pitch
Event organizers receive numerous pitches, so it's crucial to stand out. Understand their audience, goals, and desired value. 
Says Wheeless, "Don't leave it to the organizer to figure out how you'll bring them value. It's better to get to the point so that you aren't wasting the event organizer's time."
Understand the industry or specific events you are targeting. Wheeless advises, "There are conferences that are looking for specific expertise, such as technology, science, supply chain, etc. If you fit into one of those categories, it's much easier to get consideration."
Ensure you have fresh and relevant insights to offer. Event organizers are often seeking fresh ideas on various topics. That includes new speakers on evergreen topics.
Forte suggests, "Chances are, they will not hire the same speaker two years in a row, so there may be an opportunity for an up-and-comer!"
Building Your Speaker Reputation
Develop a captivating and authentic narrative that resonates with your audience and the event organizers' goals. Practice and refine your message until it flows effortlessly. Forte highlights, "Executives who can authentically share their personal journeys, lessons learned, or unique perspectives have a distinct advantage in the selection process."
Expand your horizons by attending other sessions, connecting with fellow speakers and becoming a sought-after presence at events. Seek feedback, participate in workshops, or consider coaching to improve your speaking skills and enhance your stage presence.
Wheeless adds, "Your reputation as a speaker will follow you your entire speaking career.  You want to make sure it's one you can be proud of and, more importantly, that your clients are willing to rave about!"
By implementing these strategies, executives can increase their chances of securing speaking engagements and making a lasting impact on stage. A strong network, thorough research, tailored pitches, industry relevance, online presence, and continuous growth are the key elements that can set you apart from other speakers and elevate your executive speaking career.
Tai Nichols is event content manager for PRNEWS. Follow her: @SathiyyahN