Frequently I am asked about PR dashboards. Typically I answer the question with another one: Do you want an online real-time dashboard or do you prefer data visualization on a slide or two in your monthly reports?
That question needs to be asked because PR pros seem to use the word dashboard loosely. So the question: What is a PR dashboard?
The deliverables—and the cost—for these options are quite different.
An Online Dashboard: Frequently positioned as "anytime, anywhere," it provides the bells and whistles to showcase your brand's media success in real time. The best let you slice and dice data to your heart's content.
In an instant, you can see how you stack up against competitors, find out if your coverage is trending positive, or learn who owns a topic in the media. You can discover the most up-to-date list of influencers in conversations that are important to you, determine which words are most frequently associated with your brand, and view content in different media channels.
In some cases, with just a click you can review results in various geographies and languages.
With a couple of keyboard strokes, you can open your online dashboard on your computer, phone or tablet. Or you might want to have large projections on the walls in your command center to immediately see reactions to breaking news, or just to track trends during a meeting.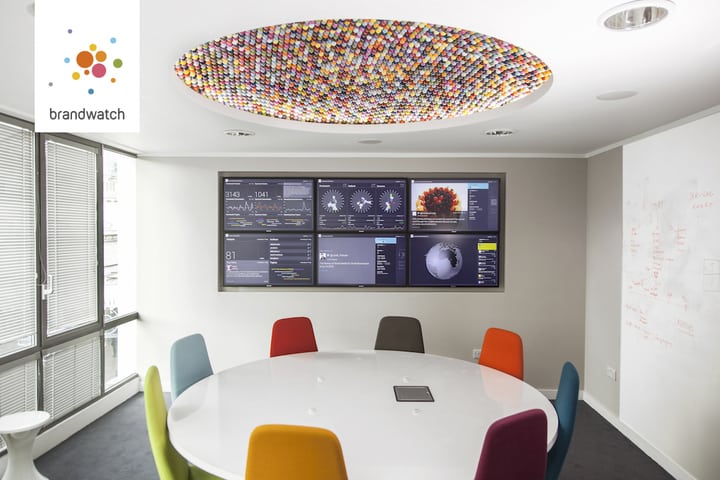 "On the wall, it's often used as a critical function of a PR command center or war room."
Users love these shiny toys. But online dashboards can range from $2,000–$25,000/month, depending on features and pricing structures.
The high cost makes an online dashboard truly valuable when PR pros spend time viewing and analyzing data regularly, discovering things that can drive strategy and improve outcomes.
Data Visualized in a Monthly Report: More frequently, when people ask for a dashboard they simply want one slide in the executive summary of their monthly reports to visualize PR results.
The content of that slide depends on your communications and business goals, and what constitutes success for your brand.
For example, you might want the first slide to be a visual of winning metrics—those that demonstrate your best media achievements that month. Or you might want to display charts with business metrics and high-level insights to share with senior leadership, instead of sending a lengthy, time-consuming report to read. You could also show charts with your data on one slide and competitive intelligence on another.
The cost of a dashboard slide or two is typically included in monthly reporting fees, and as a static visualization, it is considerably less expensive than an interactive online version. However, this type of dashboard won't help you evaluate trends in real time and lacks the anywhere, anytime capabilities.
Making a Choice: As you can see, these dashboards are dissimilar and serve very different needs. The best way to determine which dashboard will be most valuable to you is to answer the following questions: What is the purpose of a dashboard? Real-time view of data regardless of the time of day or your location, or monthly analysis of performance success? Do you have a command center? Are you involved in crisis communications? What is your budget? What are your business and communications goals? What represents PR success to you?
With either choice, your dashboard should help assess the influence of your PR programs on your brand awareness and reputation. By connecting actions to outcomes, your dashboard should indicate trends and PR successes while identifying opportunities to drive future strategic decisions.
Contact: [email protected]
This article originally appeared in the January 25, 2016 issue of PR News. Read more subscriber-only content by becoming a PR News subscriber today.