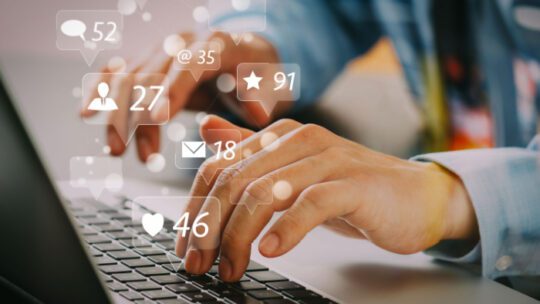 In a digital world where face-to-face interactions are outpaced by instant messages, customers crave convenience and accessibility, and they expect brands to be responsive, authentic, engaging and present on their preferred social media channels.
For PR and communications professionals, this presents a unique challenge in terms of understanding customer perspectives, practicing social listening, and crafting compelling social media strategies that leave audiences with a message they can't stop thinking about.
It's clear that the PR industry must embrace new strategies to stay ahead of the game for their clients. From immersive customer insights to hyper-personalization, the most relevant trends are driven by what consumers want—now. So for any PR professionals looking to elevate their customer's brand, this one's for you. 
It's getting harder to gain customer trust online 
With fake news, AI-generated content, and privacy breaches flooding digital channels, it's easy to understand why users may be skeptical of any brand that interacts with them. According to recent data, the incidence of fake news on social media doubled from January to August of 2022 alone. 
So how can a business effectively earn the trust of cautious customers when they're constantly being exposed to illegitimate sources? Build a bridge of communication based on authenticity, integrity, and transparency. Brands that demonstrate a commitment to these same pillars that customers value will be better positioned to secure their audience's trust.
Social listening can play a key role in shaping your efforts, providing valuable insights into who customers are, how they feel, and what steps brands can take to ease their credibility and privacy concerns. 
PR professionals can develop content strategies that educate their audience and build trust over time, leading to more effective social initiatives and a stronger brand presence. In addition to a strong brand presence, finding opportunities that align with your brand's overall mission and values as part of community interactions allows marketers to build authentic relationships with their audiences.
Showing up consistently and authentically as a brand with your audience on an ongoing basis instead of solely in times of trending moments is key to gaining trust and creating awareness of your brand's mission. 
Customers want to talk to brands
Brands that prioritize the customer experience on social media will be ahead of the competition. When emergencies erupt, social media can be your lifesaver, serving as a useful tool to monitor negative comments—even within the most niche communities—and respond swiftly. 
Need some inspiration? Companies like Zappos and StubHub have gained a reputation for their responsiveness on social media, drumming up positive brand sentiment. If PR professionals want to be the talk of the town (in a positive light), they must prioritize customer experience on social media and use innovative strategies and technologies to facilitate these interactions.
To meet consumer demands, some brands are already creating embedded social media support channels for dedicated troubleshooting and interactions. That way, users have access to a representative when they need it most, enhancing the brand experience.
Community-building sustains brand loyalty
We're seeing a shift away from the traditional approach of creating brand personas and toward a focus on building online communities. While personas were initially used to better understand target customers, attracting broader brand communities and audiences will be integral for many brands to enhance customer loyalty. 
For PR professionals, this means a shift in approach, with a need to focus on gaining a deeper understanding of consumer ecosystems and identifying those driving and sharing brand-focused conversations.
Brands must gain a deeper understanding of their customers' needs and preferences, and create an eye-catching online presence that reflects their values and interests. With social listening and social media analytics, brands can identify key influencers and advocates to develop content that resonates with their target audiences.
Position your brand at the forefront of the social media landscape 
It's clear that social media marketing is evolving rapidly, with new trends and technologies emerging at a breakneck pace. To stay ahead of the curve, PR and marketing professionals must take action to adapt their strategies accordingly and provide proper guidance to clients. 
Whether it's focusing on building a stronger sense of community online or adapting to changing consumer needs, the key to success will be the ability to stay nimble and responsive. By doing so, PR professionals can create more authentic and memorable customer experiences, driving increased loyalty and fueling a favorable brand reputation.
Attiya Ali is a business value consultant at Khoros.