The public wants to see it, and the most reputable companies—or the ones that want to keep that distinction—are spending on it: corporate social responsibility.
A recent study by Havas Worldwide confirmed a trend we've suspected all along: CSR is crucial to the public, so important that it believes businesses are just as responsible as governments for driving positive social change. According to study, two thirds of respondents said they would like their favorite brands to help their local communities, while 68% believe businesses are as responsible as governments for driving positive social change.
So how much coin are the most reputable companies allocating to their CSR efforts? According to data from the Reputation Institute, among the top four brands with the "best reputation" in 2012, the average CSR spend was $102.6 million, carried by Walt Disney's massive $248.5 million (which is still trumped by Microsoft, number seven on the most reputable list, and its $904 million.)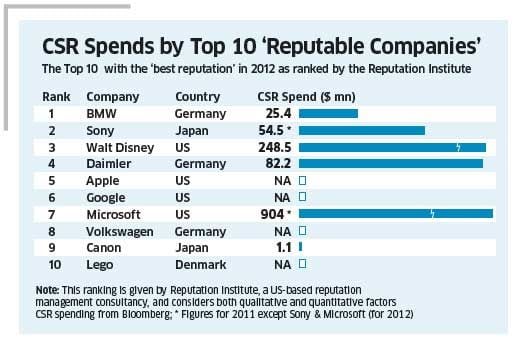 What does this mean for communications executives? Budget issues aside, with the public's desire for organization to put a greater focus on CSR initiatives, it's time for PR to champion CSR—both internally and externally. Another piece of advice: Your CSR efforts can't be half-baked.
Celebrate the top people and campaigns in CSR at the PR News CSR Awards luncheon, set for Feb. 11 at the National Press Club in Washington, D.C.