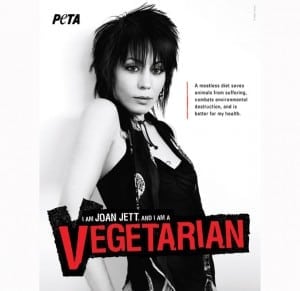 Macy's found itself in a viral nightmare this week, when the South Dakota Cattlemen Association objected to Joan Jett appearing on their state float in the Macy's Thanksgiving Day parade.  The story ran nationwide, and continues to garner interest as Jett was removed from the float by Macy's yesterday.
The association had a point: Jett has been associated with PETA for more than ten years, and South Dakota is in the Top Ten U.S. states for both beef and pork production. Seems like a bad fit, as the Rapid City Journal pointed out, when it broke the story last week.
Macy's matches performers with individual state floats. In the last two years, Don McLean lent his "American Pie" appeal to South Dakota and, previously, pop icon Neil Diamond promoted Mount Rushmore.  Good safe choices, and quite unlike the punk rocker Jett, a controversial figure since her time in the legendary hard rocking (and even harder partying) girl band The Runaways back in the `70s.
Macy's clearly did not do their homework. When using celebrity spokespeople, it's essential to do a little due diligence to avoid any possible blowback.  This is a PR loss for Macy's, now embroiled in a controversy that muddies the message of its iconic parade. Even though it initially took a hit publicly, the Cattlemen Association was right to step in and object. 
Jett, still wearing bikinis onstage at 55, if asked by PETA, may have done anything, from wearing a PETA T-shirt to stripping naked as the parade progressed. The winner here? PETA, as it finds itself mentioned and quoted nationwide.
Follow Brian Kelly: @bwpkelly