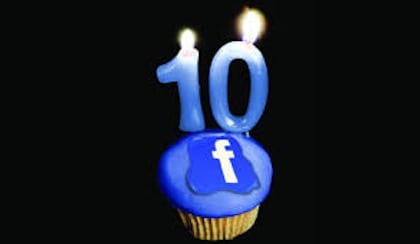 Facebook launched ten years ago today. In real time, that's not long ago at all. In digital time, it's ancient history. Friendster was the most popular social media network in 2004. Myspace was a year from being relevant. Google had launched Orkut a few weeks prior. EGreetings was king of the online holiday and birthday-card business.
In the intervening years, Friendster fizzled quickly. Myspace actually did help music sales and was the leading social media site for a few years. Nobody even remembers Orkut. EGreetings folded just this week. And Facebook remains a dynamo—with $1.2 billion users and a staggering $7.8 billion in revenue in 2013.
It was Facebook that changed the face of communications, when it launched the news feed feature in 2006.  Announced quietly in a Facebook blog, the news feed changed everything.  The concept was simple, brilliant, and simply brilliant. Instead of other users having to check out your page to find out what was going on with you, you could push news to them.
It became how all kinds of information—news, gossip, brand information, press release, and every imaginable kind of media—is disseminated. It arguably started the concept of "going viral."
At the time, the company wrote "News Feed highlights what's happening in your social circles on Facebook. It updates a personalized list of news stories throughout the day, so you'll know when Mark adds Britney Spears to his Favorites or when your crush is single again. Now, whenever you log in, you'll get the latest headlines generated by the activity of your friends and social groups."
That grew into the integration of advertising and social interaction that is so crucial to PR and corporate communications today. In fact, Farhod Manjoo wrote last year in Slate that "News feed paved the way for Twitter, Instagram, Pinterest, Flipboard, and Quora—for every site that thrives off of the communities created by lots of people's individual contributions. News feed changed the media (it's hard to imagine BuzzFeed without it), advertising, politics, and, to the extent that it altered how we all talk to one another, society itself."
Today, Facebook released Look Back. It creates a personalized video of your Facebook activity. I did it—my video stretched back seven years, and it was pretty cool.  Yesterday, Facebook released Paper for iPhone in the US. The app delivers the News Feed and other news optimized for smartphones.
And those dual releases really define what made Facebook the Social Media champ. Fun features like Look Back that tickle the personal me (and 1.2 billion other users) and useful features like Paper for iPhone that excite the professional communicator in me.
Watch this site for tips on how to really use Facebook for your PR Efforts, coming from the PR News' Digital PR Summit, taking place in San Francisco this week.
Follow Brian Kelly: @bwpkelly