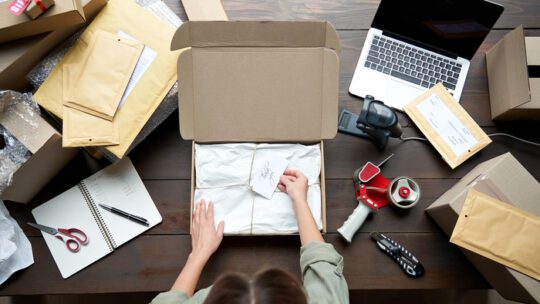 Imagine trying to open a restaurant during COVID. Especially during the most recent Omicron surge in New York City—where some facilities shut down in late December and early January 2022 due to staff shortages. COVID took entire teams taken out—sometimes for a week or more.
Aside from waitstaff, cooks, dishwashers and managers, the launch of a restaurant in the largest city in the country requires expertise from PR professionals. Pre-COVID, an opening might include a celebration with a red carpet and open bar with public figures and industry names. Invitations could be extended to culinary media for an intimate dinner event showcasing the menu.
Ashton McLeod, VP, The Door, found herself in a precarious position several months ago. Her team's remit was the launch of chef Spike Mendelsohn's PLNT Burger during the height of Omicron in New York. Instead of hosting a large opening, McLeod needed to create a safe, personalized way to promote the new restaurant. And so the burger drop was born.
McLeod's team identified media (Rachael Ray, Vice's Munchies), influencers and NYC restaurant leaders (Daniel Boulud, Marc Forgione). Next, it determined the best COVID-safety practices for each burger drop. After that, McLeod's team, masked and vaccinated, brought burgers and sides to targeted recipients.
"You can have the best plan in place, but if there's an uptick in COVID, it's important to be realistic on how you will be effective given the circumstances (while also keeping safety as a top priority)," McLeod says.
SWAG 2.0
Whether it's a product sample or an experience, how communicators connect with media since COVID obviously has changed. What are the safest and most efficient ways to distribute SWAG when journalists' offices are remote?
Cristian Gonzalez, account supervisor, Ketchum, says the mailer and sample process completely transformed. While there's an obvious added layer of caution and safety protocols, he says PR pros must also consider personal space. You must make sure media members are comfortable receiving SWAG at home.
"Gone are the days where we could send out like a mass sample for the whole editorial newsroom, because no one's in the office anymore, everyone's at home," Gonzalez says. "We want to strike the balance of keeping the media happy and informed, but also respecting their personal space and mental space too."
For instance, a journalist working from home requested notification when a mailer arrived.
"He [said], 'text me when it's here because my dog will go nuts,'" Gonzalez says. "It's things like that, that we never had to worry about before. People's lives have been upended...and so has their routine, and their new normal. So, it's about adjusting our approach and being super mindful of what that new normal looks like for whatever reporter we're targeting."
With physical swag, product choices are evolving. Agencies and creative teams want to create an experience around mailers, making them more than one-dimensional. Gonzalez says agile response—inserting a product into a cultural conversation—is one tactic.
"Let's say a celebrity tweeted at one of my brands—we act on it immediately to continue to take the experience and engagement offline," he says. Gonzalez cites the example of Eggo waffles appearing on the Netflix series "Stranger Things."
"I imagine [Eggo's] PR team must have gone nuts," he says. "I'm sure they reacted quickly—whether it's sending product to the cast, or to the team at Netflix. It may be just leveraging how your brand is currently being talked about and creating a timely engagement opportunity from that."
The Evolution of Press Trips and Media Junkets
During COVID, travel companies developed creative, virtual outreach programs, including desk-side tastings and educational experiences. Now, those representing hospitality entities are navigating how to safely welcome the press to real-life events and trips.
Stacy Royal, principal, Decker/Royal, works with many travel clients, including resort giant Sandals. She says the agency is fortunate that Sandals was among the first to develop stringent COVID-safety policies, known as the Platinum Protocols. These policies have helped Decker/Royal resume hosting press trips for the past year. Still, logistics for those trips has changed. Royal says the agency is sensitive that some media members may be uncomfortable in group settings. This has resulted in a spike in individual media visits.
For Uniworld, a luxury river cruise line, "all press experiences in the past 18 months have been individual," Royal says. This lets media members choose their "own comfort level," she adds.
However, Royal notes that the increase in individual trips resulted in less media exposure for brands. In response, travel companies are raising the stakes. They're offering consumers more of-the-moment packages, ensuring travel is at the forefront of conversations.
For example, Decker/Royal created a free flight promotion for travelers named Jake to escape the scorn from the re-release of Taylor Swift's "Red" album. The promotion was created on behalf of App in the Air. In addition, during the 2021 holidays, Club Wyndham partnered with the Hallmark Channel on holiday-themed hotel suites. They sold out in minutes.
Connecting with Media
Surprisingly, every PR pro we interviewed noted that despite a lack of face-to-face meetings with media during COVID, they didn't feel less connected to journalists. In fact, many say they're better connected as a result of COVID forcing them to get more creative with media outreach tactics, whether it be SWAG, virtual press conferences or creating personalized experiences.
"Certainly the natural interaction at conferences, on press trips, during one-on-ones, has slowed over the past few years, but everyone has gotten more creative in keeping relationships alive," Royal expressed.
Gonzalez says it's easier to connect with media since the pandemic, particularly through social media. "I think the pandemic has created this need for communities online," he says. "And it [could be finding out we] have a mutual interest in a TV show—I [just] feel so much more connected to journalists on social media now during the pandemic than I ever have before."
And while Omicron has slowed, COVID's outlook remains uncertain—which means communicators and journalists must remain ready for pandemic-fueled changes. Royal acknowledges the importance of this.
"I think we're all craving more connection but the ability to do the work—and do it well—hasn't slowed down behind the screens."