In the weeks after 20-year-old Adam Lanza shot and killed 20 young children and six adult staff members at Sandy Hook Elementary School before killing himself in December 2012, one question dominated the conversation: Why? The tragedy sparked a discussion of gun ownership in America, which isn't going away anytime soon. But another question raged on social media, cable TV and throughout the land: Why aren't we treating those people with mental illness? Why will people go to a doctor when they have a fever, but not find help when they are depressed?
PR OBJECTIVES
National Association of Broadcasters (NAB) CEO Gordon Smith leveraged his organization's broad influence to try and change that. In January 2013, he spoke with Vice President Joe Biden and the duo resolved to launch a mental health public service campaign catering to teens and young adults.
"This is the type of work we dream about doing, hitting the sweet spot of our experience in social marketing, research, creative execution and social media," said Junia Geisler, VP at Ogilvy Public Relations. "On top of that, each member of our team had a personal connection to the issue of mental health."
That passion manifested in a short video created by the staff showing how mental illness had affected their lives and helped the NAB understand what Ogilvy's end product might look like.
NAB challenged Ogilvy to create a PSA campaign that would put at least a dent in the stigma of mental illness among 13- to 24-year-olds. The goal was to have at least 50,000 airings of the PSA in the first year of the campaign. The agency would create an online community where the target audience would be able to share their personal stories, whether they were filled with pain or hope, and feel supported by peers.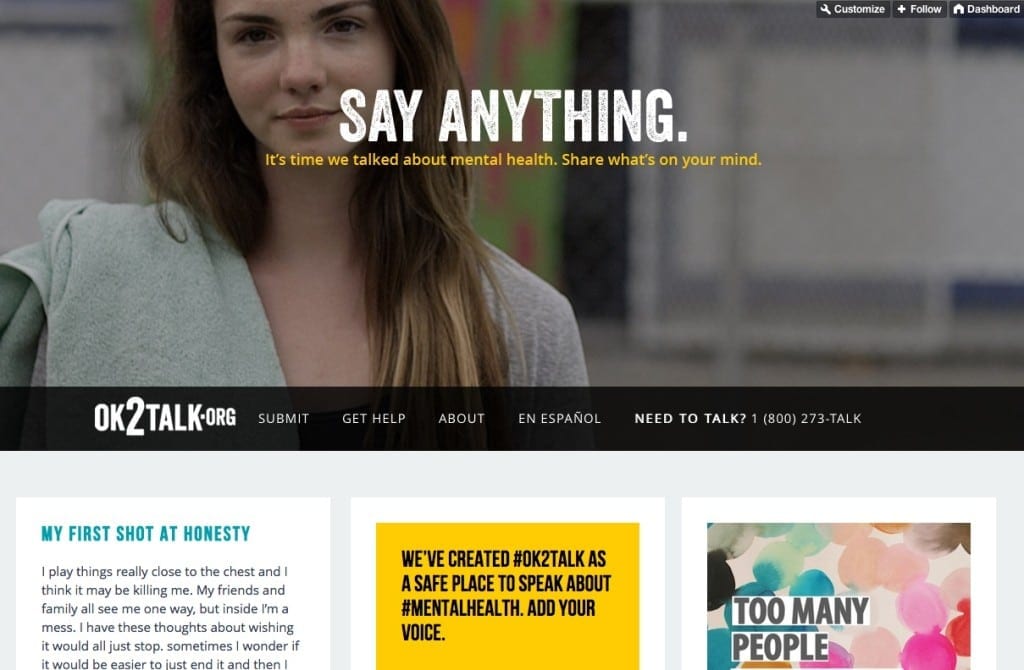 THE LAUNCH
When the campaign launched at the end of July 2013, it had been given the name OK2TALK. The campaign consisted of nine TV ads (five in English and four in Spanish) and four radio spots (two in English and two in Spanish) that were designed around the concept of, "What do you want to be?" The ads featured 13- to 24-year-olds sharing their own stories, with the tagline, "OK2TALK."
"The broad audience definitely posed a challenge, both creatively and in tactical execution," said Michelle Lehman, executive vice president of NAB. "We sought a message that would resonate with everyone: What is your dream for the future, and how will you accomplish it if simply getting through each day is a struggle?
"We knew we had to be sincere to establish credibility with this age group. We used actors who were also dealing with mental health issues in their daily lives and we threw out the script, letting them share their honest feelings with us on camera. That raw, honest emotion came through in the spots," he added.
NAB asked broadcasters to run the ads during programs reaching that broad age spectrum.
At the same time, NAB and Ogilvy rolled out the Tumblr -based platform, OK2TALK.org. It provided a forum for teens and young adults struggling with mental illness to share their stories. The site also featured device-responsive content and parallax scrolling.
"While platforms like Facebook were considered, Tumblr emerged as the most popular social networking site for teens and young adults who are especially interested in creating and sharing content," Geisler said. "On Tumblr, our audience could participate anonymously, and the platform's functionality offered the ability for moderation, which was vital to creating a safe space to discuss such a sensitive topic."
In the first few months after the launch the campaign collected plenty of attention. It got a boost on Christmas Eve when 19-year-old Chiara de Blasio, the daughter of New York City Mayor Bill de Blasio, released a video detailing her struggle with depression and mentioned OK2TALK.org as a good resource.
"This type of organic endorsement reinforces the authenticity of the campaign and its ability to strike a chord among a traditionally hard-to-reach audience," Geisler said.
THE RESULTS
Just two months after the launch, the PSA viewings were well past what the NAB had anticipated after a full year:
• More than 99,400 airings on 1,107 stations in 208 markets (of 210 total in the U.S.), with an audience reach of 602,909,000.
• More than 7,200 PSA airings on 81 stations in 25 markets, with an audience reach of 423,215,400.
• Those combined airings amounted to more than $12 million in free airtime for the campaign.
• CBS devoted 18 prime time slots to air the prime time in August 2013; the Detroit NBC affiliate committed to air the spots 150,000 times per month through December 2013.
• Ogilvy secured a USA Today feature on the campaign, generating thousands of Facebook shares and tweets.
• Numerous blogs endorsed OK2TALK, including posts on BipolarMomLife, Motherhood Unadorned, Unsuicide and To Write Love on Her Arms, which reached 80,000 Twitter followers.
• OK2TALK.org now has more than 260,000 page views and 15,539 followers.
• The site has more than 2,000 content submissions (an average of 35 per day), and thousands of comments of support on user-submitted content.
• OK2TALK also has more than 23,000 click-throughs to the "Get Help" resources.
More than 290,000 individuals have visited the site, and one out five people have commented, submitted a story or engaged with others who are struggling. What's most impressive is that more than 82,000 have clicked "Get Help" to access mental health and suicide prevention resources.
In addition, the National Suicide Prevention Lifeline, which OK2TALK heavily promotes to its visitors, saw a 7% increase in calls in the month after OK2TALK launched.
As a side benefit, NAB's more than 8,000 members were given a platform to help serve their communities. The organization also strengthened its relationships with government officials and policymakers.
"In the first month of the campaign alone, broadcasters donated $6.9 million in free airtime, which is unheard of for public service announcements," Lehman said. "Most public service campaigns would be ecstatic to garner $1 million in free inventory in a year. This commitment blew everyone away. Spots have aired in prime time on major broadcast networks and in every television market in the country."
But the best stat of all is that, to date, more than 82,000 people have clicked "Get Help" on our OK2TALK.org site, accessing mental health and suicide prevention resources.
It's the first step toward getting help, and it's incredibly inspiring to think that this campaign is saving lives. PRN
Breaking Through the Clutter to Reach Teens
In the creation of OK2TALK, we faced a challenging proposition: How can a communications campaign break through and convince teens and young adults to talk about mental health and seek help if they need it? Here are five PR tips that worked for us.
• Be authentic. Tap into the audience teens trust most—their peers—and use peer-to-peer storytelling to open the lines of communication. Speak their language by using human-interest stories and unscripted testimonials in PSAs to spark an emotional connection.
• Capture their attention. Don't bore teens with stats. Ask an inspiring question that makes them stop and think, such as "Who do you want to be when you grow up?" or "How will you change the world?"
• Inspire action. Create a strong call to action that motivates young adults. Don't expect them to just consume static information; invite them to contribute to the dialogue by adding their own voice or other creative content.
• Go where they are. Ninety-five percent of teens use the Internet. Develop an online community on a social platform such as Tumblr or Facebook that reaches teens and young adults directly and creates an environment that fosters conversation.
• Create surround sound. Amplify the message and extend the reach of the campaign by collaborating with entities that have a direct connection to teens, including advocacy organizations and teen-focused brands and platforms.
This sidebar was written by Junia Geisler, VP at Ogilvy Public Relations Worldwide.
CONTACT:
Junia Geisler, junia.geisler@ogilvy.com; Michelle Lehman, mlehman@nab.org.
This article originally appeared in the Feb. 17, 2014 issue of PR News. Read more subscriber-only content by becoming a PR News subscriber today.