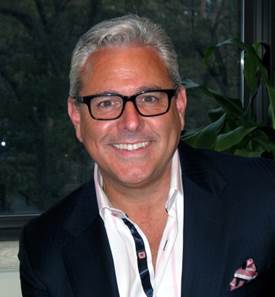 ▶ My mom has had the biggest influence on my career, hands down. I wouldn't be in PR if it weren't for her. She made it very clear from an early age that she wouldn't pay for college if I majored in theatre arts, so I fell in to PR as it was the only other degree that didn't require any courses in math. Turns out the decision paid off.
▶ Working for Richard Edelman and Jody Quinn (Edelman) on the Fuji Photo Film account taught me the power of bringing creativity and tenacity into every PR campaign. They beat creative into my head every single day for eight years. Early on, Post Cereals ' "Pop Into the Park" campaign with Donovan Neale-May reinforced the idea that creativity and client service are paramount.
There's no better way to learn in this business than to surround yourself with great teachers/mentors. I was lucky and eternally grateful to all my teachers – I had the best of the best: Donavan Neale-May, Ron Ricci, Maggie McCue, Ken Jacobs, Deke August, Richard Edelman, Jody Quinn, Tom Shay, Bruce Bowman, George Drucker, Michael Morley, Susan Butenhoff, and now Rob Flaherty and Barri Rafferty.
I now try to instill those qualities in the team at Access. Whether it's in new business presentations or for some of the campaigns we've done for Intuit ("Small Business, Big Game," the QuickBooks Connect conference, etc.), Facebook (the Facebook Fit small business road trip) and many of Access' other accounts, we wouldn't have the long-standing relationships we have with our clients if it weren't for the drive we have to be as creative as possible.
▶ From early on in my career, I've adhered to three key principles:
Always be paranoid
Always be on time
Always be better
These are qualities I look for in Access employees and ones I hope to find in the clients we work with.
▶ We're in the customer service business; if they want their steak well done and you think it should be medium rare, deliver it well done. Or have a damn, good reason why it's rare, and tell them before you deliver it to the table. There is a great book called "All I Really Need To Know I Learned in Kindergarten." Find it and read it if you have not already done so. It's basic business etiquette for everyone.
CONTACT:
Matt Afflixio, mafflixio@accesspr.com
This article originally appeared in the April 6, 2015 issue of PR News. Read more subscriber-only content by becoming a PR News subscriber today.