National Association of Broadcasters  - OK2TALK: Giving Youth a Voice to Discuss Mental Health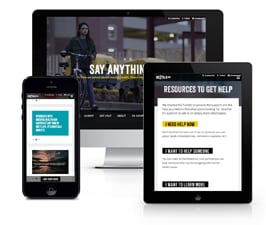 When 1 in 4 teens and young adults feel alone, unloved and isolated because of mental illness, how can a communications campaign break through and convince them to talk about it and seek help? The National Association of Broadcasters answered by pairing an authentic, unscripted PSA campaign with an online community of support.

Studies show that two-thirds of young adults have personal experience with mental illness; and  teens and young adults who suffer from mental illness feel hopeless and find it difficult to talk to parents and even peers about this issue. So it was determined important to establish that a genuine, hopeful, empathetic and reassuring tone when addressing the very serious issue.
The OK2TALK campaign launched July 23, 2013 at an event on Capitol Hill. The National Association of Broadcasters leveraged social media to get the message out. 
Just two months after launch, the campaign boasted impressive results. More than 99,400 airings on 1,107 stations in 208 markets (of 210 total in the U.S.) with an audience reach of 602,909,000. Radio PSAs totaled more than 7,200 airings on 81 stations in 25 markets with an audience reach of 423,215,400. 
OK2TALK.org has more than 260,000 page views and 15,539 followers; more than 2,000 content submissions (an average of 35 per day), and thousands of comments of support on user-submitted content.
Honorable Mentions:
APCO Worldwide  - Yunus Social Business
LeadingThinkers/BFM Creative on behalf of Texas Torah Institute's 10th Anniversary Fundraising Video
NYU Langone Medical Center - Powered by Our People