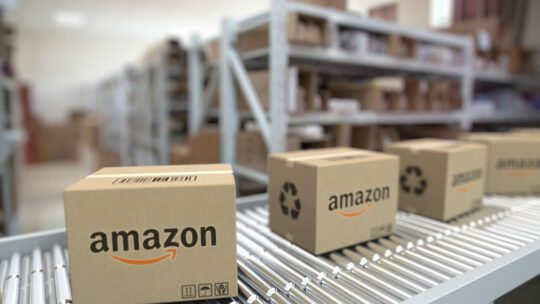 Once again, a brand enmeshed in tragedy is finding 'thoughts and prayers' are not enough.
Amazon responded to a deadly warehouse collapse Dec. 10 that killed at least six employees with rote 'thoughts and prayers' responses from spokespeople. Add a too-little-too-late comment from executive chairman Jeff Bezos, and any company (aside from Amazon, of course) might find itself in a communication crisis with long-term consequences.
Bezos is receiving criticism for his statement's timing—a full 24 hours after a tornado that ripped through four states destroyed the warehouse. In addition, Bezos never mentioned the tornado during the latest Blue Origin flight, on Saturday (Dec. 11).
That Bezos postponed expressing regret for victims in favor of cheering on his New Shepard rocket's six-person, millionaire and billionaire crew spoke volumes to families of hourly workers who died in the collapse, not to mention the general public.  An Amazon exec who tweeted about the disaster has an interesting reputation.
Too many 'thoughts and prayers'
Dave Clark, Amazon's logistic chief, was dubbed "the Sniper" for allegedly lurking in the shadows to suss out and fire slacking warehouse workers, according to a 2019 Business Standard profile. Its author, Spencer Soper, reported on Amazon's warehouse conditions for years.
In the 2019 profile, Soper credits Clark with "mandating more thorough reporting of injuries at all Amazon facilities." He "believed Amazon could address safety issues in its facilities only if it collected more data."
Also, Clark clearly believes media coverage matters; he invested $50 million in air conditioning following a 2011 Soper exposé about dangerously high temperatures inside a Lehigh Valley, PA, warehouse.
In the Standard, Soper called Clark the "self-appointed guardian of Amazon's reputation on Twitter."
Indeed, Clark tweeted about the tornado recently. Perhaps making up for the lack of a Bezos statement, Clark also retweeted that Amazon will donate $1M to support relief work. Still, that does not mean the general public will look to Clark for the company's response. Bezos remains CEO in consumers' minds, despite his February 2021 move to chairman.
Humanizing Crisis Statements
During the PRNEWS' Media Relations Conference Dec. 8-9 in Pentagon City, VA, General Motors' global innovation and growth communications lead Daniel Roberts advised attendees to keep reactive statements during a crisis short–two sentences max.
(Clark tweeted twice in two-sentence bursts in addition to an earlier "thoughts and prayers" tweet, a "thanking the Red Cross" tweet, and Amazon's donation announcement).
We're deeply saddened by the news that members of our Amazon family passed away as a result of the storm in Edwardsville, Illinois. Our thoughts and prayers are with the victims, their loved ones, and everyone who has been impacted by the storm's path across the U.S.

— Dave Clark (@davehclark) December 11, 2021
Moreover, Roberts advised avoiding phrases like 'We're devastated' or 'Our thoughts and prayers.' Instead, personalize the message. Say, 'As a father, I am saddened every time I see a tragedy like XYZ.'
On the other hand, Clark and Amazon's spokespeople used the collective we, as in this statement in The NY Post:
Kelly Nantel said in a statement Sunday: "We're deeply saddened by the news that members of our Amazon family passed away as a result of the storm in Edwardsville, IL. Our thoughts and prayers are with the victims, their loved ones, and everyone impacted by the tornado. We also want to thank all the first responders for their ongoing efforts on scene. We're continuing to provide support to our employees and partners in the area."
The "thoughts and prayers" phrase fails to address the Post article's damning content: A girlfriend of one of the warehouse workers who died alleges that her boyfriend texted her that Amazon would not allow him or his coworkers to leave until the storm passed.
Dirty laundry is quick to resurface
Of course, Amazon taking a beating on labor issues from reporters and the public is not news. The warehouse collapse highlights one of many questionable labor practices to come to light in recent years—including banning cell phone use.
Bloomberg reported that Amazon relaxed the policy early in the pandemic, but recently reinstated it. The tornado's rapid course highlights how the restriction could turn deadly.
The New York Times noted that the one-story Edwardsville warehouse served as one of an increasing number of "delivery stations" that employ fewer Amazon workers and rely on a larger contractor delivery staff than the company's widely known massive, multi-story "fulfillment centers."
Regarding the company's expansion of these contractor-heavy sites, which have grown from 70 to 600 in just four years and are busiest during the holiday season, the Times noted, "[I]ndustry consultants and Amazon employees directly involved in the program have said it lets the company avoid liability for accidents and other risks, and limits labor organizing."
Labor stays on message
It has been a busy press year for union officials and advocates, who have helped turn the media's eye on the company's labor practices just about every time a negative story hits. A historic union vote at an Alabama warehouse failed early this year, but was overturned for foul play (Amazon's installation of an onsite collection box; polling workers) by a regional office of the National Labor Relations Board, which has called for a new vote. A Teamsters campaign and new California legislation have kept the heat on Amazon to respond to its tarnished employer image.
A video storytelling stretch
In response, Amazon has leaned heavily into its $15/hour wages, running documentary-style YouTube and TV ads celebrating individual workers' emergence from poverty as a result of fair wages.
This holiday season, the brand also sought to prop up its image as a service provider while people continue to feel the pandemic's mental health impacts. Its widely circulated ad "Kindness, the greatest gift" positions the pandemic norm of exchanging gifts without in-person contact (with Amazon's help) as a random act of kindness.
Nudging consumers to #ShopLocal
As of this writing, Amazon's stock is down 1.44 percent today (Dec. 13), but so is the rest of the market, with the government expected to raise interest rates this week. Plus, given its near-monopoly on shipping, the holiday season is generally good for Amazon. Still, the company's shipping business pandemic boom appears to be on the decline as shoppers return to stores, despite fears around the emerging Omicron variant.
Small Business Saturday, which American Express launched (officially) in 2010, continues to spread awareness that consumers have alternatives to Amazon. A hat tip to the PR pros working at government agencies, nonprofits, tourism boards and communication firms that represent local businesses. They are working overtime to encourage consumers to shop local this holiday season.
#ShopLocalSJ Gift Guide #5 is here! You'll have to pop down to San Pedro Square to check this one out.

Our next gift guide will be heading over to East San Jose! Who are you shopping for next? #SanJose #supportlocalbusiness @sliccardo @CMRaulPeralez @SupCindyChavez pic.twitter.com/csDATfXMNR

— TheHub_ByQuirk (@TheHub_ByQuirk) December 13, 2021