Winner: FedEx - FedEx Corporate Communications efforts in the area of Diversity Communications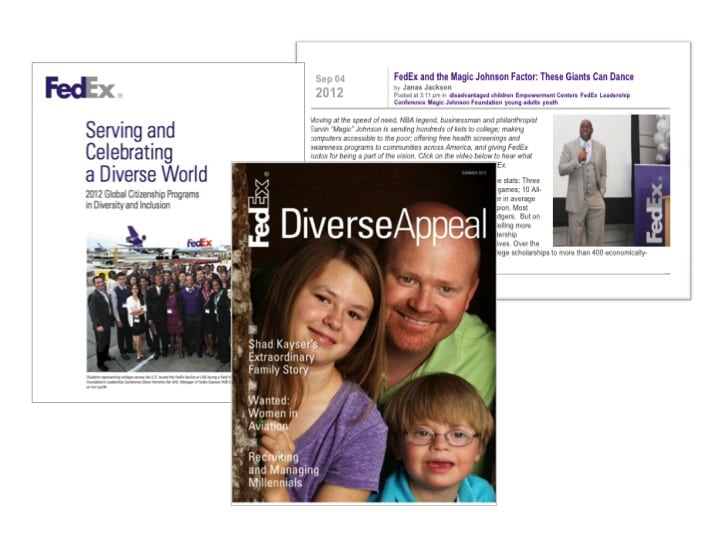 FedEx was looking to raise awareness among all of its audiences about FedEx programs, initiatives and outreach efforts focused on diversity.
The key to the PR effort was creating original content. FedEx helped to get the word out via four main print and online publications/channels. These publications included Diverse Appeal, a quarterly magazine that celebrates the business benefits of diversity and inclusion at FedEx; the Global Citizenship Report, an annual "report card" on the company's economic and environmental efforts; diversity related blogs; and the Diversity Outcome Report, a comprehensive examination of workforce statistics and charitable efforts with a diversity focus.
FedEx was able to seal the campaign's success when it shifted the management of Diverse Appeal to the company's corporate communications' team from Human Resources.
With PR at the helm, the results for FedEx have been something to write home about: Recent issues of the publication have generated more than 10,000 visits and more than 100,000 page views. Site views for the fiscal 2011 Global Citizenship Report garnered 3,419 site views, up 14% from the previous year, while the report's Facebook page attracted 547 "likes," up 80% over the previous year; and Facebook shares were up 90%. —Matthew Schwartz
Honorable Mentions
Entergy Corp - No Place for Hate

Select Health of South Carolina - Culturally Competent Cervical Cancer Screening Program

Turk Telekom - Books on the Phone