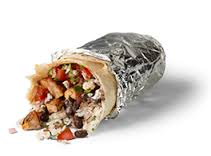 In Russian they say, "Doveryai, no proveryai." Translated it's "Trust, but Verify." The Great Communicator, President Ronald Reagan, used this aphorism during talks with his Soviet counterpart Mikhail Gorbachev during the late 1980s.
With food served in restaurants and other eateries, though, you not only have to trust the federal, state and local verifiers, you must trust the delivery chain and the people who prepare and deliver the food to your table. Do you know if the person who just served you a slice of pizza washed his hands after mopping the floor? [The preceding was not a theoretical question. Your writer witnessed it yesterday.]
Back to Denver-based Chipotle Inc., which has some 1,700 outlets, is known for serving  meat free of antibiotics and was founded in 1993. Chipotle over the weekend proactively closed all 43 of its outlets in two markets in Washington and Oregon when health officials alerted the casual dining chain that they were investigating 20 cases of E. coli initially linked to six Chipotle restaurants in those markets. Oregon health officials said Saturday three people in the Portland area and 19 in Washington became ill after eating at Chipotle restaurants since Oct. 14.
The timing was not good. Of course, like unwanted house guests, crises usually fail to ask brands in advance whether they're ready for them or not.
The story about the possible E. coli cases pierced the national scene Sunday. Late Friday afternoon, as Wall St. was heading home for Halloween, a clever headline writer at cnbc.com affixed a holiday-appropriate title to a story: "15 Stocks That Should Scare You Out of Your Wits." Yes, Chipotle was among them. The writer, Matt Krantz, noted the burrito maker and Wall St darling was "down 10.5% in October and off 5.8% for the year following concerns of slowing profit growth." The chain's shares fell badly earlier in the month when its 3Q financials disappointed analysts Oct 20.
As you can imagine, Chipotle shares were falling today on repercussions of the possible E. coli outbreak. Adding to the bad timing, some Chipotle outlets, including several of the 43 closed, were hoping to boost choppy October sales with a weekend Halloween promotion called "boorito." Nope. More bad timing: Earlier in the year a supply chain issue prompted Chipotle to stop serving pork in some of its outlets; the chain said the suppliers didn't meet its standards in terms of caring for animals. Chipotle also was in the news for an outbreak of Norovirus in California in August as well as a Salmonella issue in Minnesota this summer.
We would have liked to have been a fly on the wall—OK, poor choice of words—when Chipotle officials were formulating their plan of action. How was it decided to close 43 restaurants instead of the six under suspicion? This morning we asked Chipotle to discuss how it formulated its crisis plan. Our inquiry went unanswered as we posted this Monday afternoon. While we can understand that Chipotle likely is swamped, we recall that Volkswagen responded to us within hours of its emissions crisis going national. That set the bar high.
[Update, posted 1pm ET, Tuesday, November 3, 2015: Chipotle's communications director Chris Arnold responded to us in the evening, after this post went live. Considering the amount of media requests Arnold received, it's impressive that he was able to get back to us. "While this issue is in the early stages," Arnold told us, "we thought it was important to take swift and decisive action, and to provide a statement on those actions." He provided the following statement that we reprint in full here.
"The safety and wellbeing of our customers is always our highest priority. After being notified by health department officials in the Seattle and Portland, Ore. areas that they were investigating approximately 20 cases of E. coli, including people who ate at six of our restaurants in those areas, we immediately closed all of our restaurants in the area out of an abundance of caution, even though the vast majority of these restaurants have no reported problems. We are working with health department officials to determine the cause of this issue. We offer our deepest sympathies to those who have been affected by this situation."
He also told us, "Right now, the priority is to work through the investigation so this can be resolved, and we are doing that, cooperating fully with investigators. We'll certainly have more to share as things move forward."
Next week's edition of PR News will have coverage of this breaking story. End of Update]
Chipotle has done several things well in the early days of this situation—it seems premature to label it a crisis, although the 21 people suffering from what is believed to be E. coli, some in hospitals, might think otherwise. At any rate, Chipotle:
Reacted Quickly: The brand seems to have moved fast once health authorities posted information about the situation Saturday.
Took Proper Tone: Chipotle's Arnold, the voice of the brand during the past few days, acknowledged the situation, apologized and expressed concern for the suffering customers. Arnold also said the restaurants will reopen when the health agencies' investigations deem it appropriate. In addition he's noted Chipotle is cooperating with the investigations. On the downside,  the company has yet to release an official statement or tweet about the situation. All the information in the media has come from Arnold.
Used Caution: As we noted above, Chipotle closed 43 restaurants instead of only the six that tentatively are linked to the alleged outbreak. While this probably was the correct move, it could hurt Chipotle. As CNBC investment guru Jim Cramer said today on the "Squawk on the Street" show, "People won't understand that this company is [taking] an abundance of caution."  Without an official statement to emphasize that point and explain why it is doing so, public misunderstanding is a distinct possibility.
With all that's on the line here, it seems obvious PR and financial people will watch this story closely.