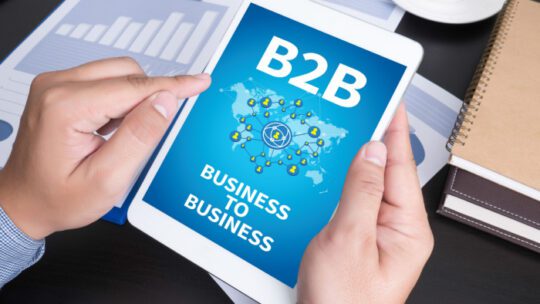 B2B companies need to stop playing "small ball" with their public relations programs and campaigns. These organizations need to be known not for their quarterly product upgrades, or minor features and functions tweaks, but instead for championing the new way of doing business in their respective industries.
Why is this an operational imperative? Because in 2023, the decades-old PR playbook isn't inspiring key audiences any longer:
Issue four press releases monthly to show "momentum."
Spray-and-pray to a huge list of reporters hoping somebody—anybody—bites.
Pitching "news" about minor feature changes.
Rinse and repeat and count-up all the press release syndications and impressions.
There's a Better Way
If B2B companies are competing on features and functionality, they're merely treading water in a sea of sameness. They're doing checkbox PR in a world where people need to feel like they're joining a movement that's bigger than themselves.
It's time to think bigger.
For B2B messaging to stand out, it needs to stand for something more powerful and transformative than your company's collection of upgrades and widgets. It's time to show people the 50,000-foot view of the wild, dense forest you're taming instead of focusing on the individual trees of incrementalism.
It's time to build a narrative that reveals the chasm between the past your prospects are stuck in and the "bold new world" you represent.
This is the difference between mediocrity versus metamorphosis. This is fundamentally about winning vs. losing. This is about nailing a narrative that you can bake into everything your brand says and does.
Here are a three ways we are reaching audiences:
Media: Building Credibility Through a Feel-Good Narrative
A tried and true method for generating buzz and attention is to focus on more than just how your clients are creating a profitable business—showcase how they are addressing societal challenges to make a positive impact.
When our client, an AI-driven startup in the orthodontic industry needed to build awareness, our first objective was to highlight the CEO and founder's entrepreneurial journey, honing in on what makes them interesting and unique. That's why we started with sharing the narrative of how the CEO has been fueled by a passion to bridge the access to care gap in the orthodontic market, making perfect smiles more affordable for people of all socioeconomic levels. This is the type of feel-good story that makes people want to listen.
When you focus on what good a company is doing for the world instead of only promoting their latest tech innovations, people pay attention. With this narrative strategy in place, the CEO started getting featured via publications like Forbes, The AI Journal, and orthodontic trade publications, securing more than 10+ features in just a few months.
This type of PR creates a halo effect that surrounds the brand, in turn, cultivating warm and fuzzy feelings that make prospects want to associate themselves with the brand.
Podcasts: Increasing Thought Leadership and Visibility for Execs via Emerging Channels
While conventional tradeshow and speaking opportunities still serve an important purpose for visibility, the burgeoning realm of podcast shows presents an entirely new level of possibilities.
Our efforts on behalf of a channel-industry client demonstrate the potential in the world of podcasts, propelling their CEO from having never secured a speaking opportunity to successfully securing 11 podcast interviews in just one year.
Shifting your client's speaking strategy to harness both old and new opportunities is a great way to expand reach and influence. By capitalizing on this evolving medium, you can broaden exposure and facilitate meaningful engagement with new audiences.
LinkedIn: An Untapped Channel for PR
For a client in the marketing, sales, and customer success space, we launched a LinkedIn program to "ungate" their experts' educational tools and resources. Instead of forcing people to give away their contact information in exchange for knowledge, we simply shared it.
The result? Professionals flocked to their company page to get the insights that ultimately boosted the brand's lead gen funnel.
By increasing the consistency of content, amping up engagement via comments and likes, and sharing the brand's most popular educational content, we expanded the company's following by 2,000+, representing a significant 15% audience increase in just three months.
Moreover, the engagement rates far surpassed industry averages, exceeding them by over three times. The enhanced visibility resulted in a notable 76% surge in social media as a source of web traffic, with LinkedIn emerging as the third-largest driver of website visits.
The Power of Strategic Narratives
The most successful B2B companies imprint their strategic narrative into their very ethos. They give their employees something meaningful to run toward, a true north. They give their prospects, partners, and customers something to believe in. And most importantly, they elevate their communications programs away from tactical incrementalism into strategic, sustainable brand building.
This is an important mindset shift. This is different from "how PR has always been done." But make no mistake: this is the way.
Parry Headrick is Founder of Crackle PR.