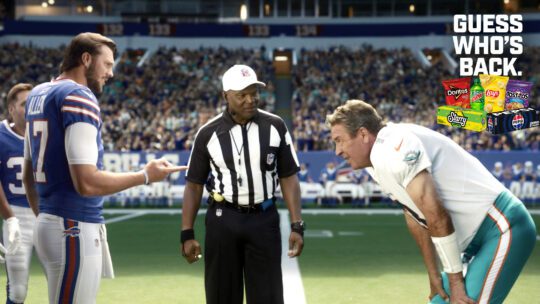 'Tis the season for football. The college football season already began in August, while the NFL launched its 2023 season on Thurs., Sept. 7. 
And with a new season comes a new crop of brand promotions and sponsorships featuring creative strategies and tactics to catch fans' attention. PRNEWS wanted to usher in the new season by highlighting some campaigns that stood out in our inbox. 
Player Involvement 
Interscope Geffen A&M Records and EA Sports teamed up with the NFL to release the first-ever EP featuring league players, called "Crowd Control."
The title features Darren Waller of the New York Giants, whose grandfather was the legendary jazz artist Fats Waller; the Miami Dolphins' Terron Armstead; Ray-Ray McCloud of the San Francisco 49ers; free agent Melvin Ingram and DJ Chark of the Carolina Panthers. 
The tracks are featured in the video game Madden NFL 24 and on all digital service providers. This is the first time music has been created and performed by NFL players and featured in Madden NFL franchise history.
The idea came from an NFL Career Tour stop hosted at the label's headquarters this past spring. The Career Tour provides current and former players with access to major organizations to learn about various career opportunities and network with industry leaders for life beyond football.
This partnership between the three parties allows for a targeting of various audiences who may not always follow the sport and enriches the personal brands of the players involved. 
Nostalgia
It wouldn't be football without snacks, so it's only natural that PepsiCo's Frito-Lay and Beverage Brands debut a new campaign during the 2023 NFL Kickoff. "Unretirement" features notable NFL players including the retired Tom Brady, Julian Edelman, Dan Marino, Randy Moss, Jerry Rice, Emmitt Smith, and current NFL Buffalo Bills quarterback Josh Allen.
The comedic messaging brings together several generations of football fans, tying together a true family and friends experience. 
"Our brands are synonymous with the game day experience," says Greg Lyons, Chief Marketing Officer of PepsiCo Beverages North America. "Game day is about enjoying friends, family and football…So, for the kickoff of the 2023 season, we're amplifying that excitement even more by bringing together an iconic lineup of talent, snacks and beverages."
College/NFL Crossover 
NFL fans may remember the flashy player Deion Sanders from his days with various teams, most famously the Dallas Cowboys. Sanders, now known as Coach Prime, is back and finding success as a head coach of the Colorado Buffaloes at the University of Colorado Boulder.  
California Almonds took this opportunity to work with Sanders to showcase the benefits of almonds when it comes to exercise recovery. The Own Your Prime campaign's messaging sheds light on this with new research. According to initial research, funded by the Almond Board of California, conducted among 64 U.S. adults ages 30-65 who are occasional exercisers, most study participants who ate almonds experienced reduced fatigue and tension during muscle recovery, increased leg and lower back strength, and decreased muscle damage during the first day of recovery.
The ads will air on national and cable TV—CBS, Fox, ESPN and CBS Sports—as well as on social media. And the choosing of talent, much like the nostalgia tactic, works to bring together several generations, allowing for a wider audience reach.
Current Events 
The housing market remains a hot topic, particularly when it comes to affordability, financing and overall inventory. 
Coldwell Banker is returning this year by showcasing its aspirational "Dream" campaign during some weeks of Amazon Prime Thursday Night Football. 
This year, the Dream campaign will feature an interactive platform called the "Move Meter Matchup." The platform allows users to compare two cities—where you currently live versus where you want to live—and calculates, through various elements, if that move could be a good decision. Some of the factors looked at include quality of life, housing affordability and job market strength.
The platform provides a gamification element in comparing cities, much like NFL teams go head-to-head on game day. 
"We will have the ability to stream advertising to more than 8 million viewers per game each weeknight that our ad airs, allowing us to directly connect with a wider audience of consumers in search of their dream home," says David Marine, CMO of Coldwell Banker Real Estate LLC.
We can't wait to see what other activations brands come up with for the 2023 season. Good luck to all the teams (and the brands) this season.
Nicole Schuman is senior editor for PRNEWS. Follow her @buffalogal