Each case study in this 200+ page guidebook will offer you a wide variety of tactics and strategies from which to learn and apply to your own initiatives. Through interviews with communications team members and key executives, our case study editors are able to give you first-hand accounts of how a campaign was executed – from soup to nuts.
---
Overview | Chapters | Featured Companies | Samples | Buy Now
---
Overview
Each case study in this guidebook, ranging from crisis management to internal communications
to product launches and beyond, lays out the objectives at hand and a firsthand account of how
the campaign was executed. Our authors give you an inside look at the workings of their cases
and point out how the tactics and strategies therein can be applied to your own initiatives.
For example, Linda Rutherford of Southwest Airlines walks readers through how her team dealt
with a potentially devastating technical outage. Her advice is sometimes counterintuitive—don't
play it too safe, she says, and try new tools you may not be perfectly comfortable with yet if they
get the job done.
For Conservation International, novelty also played a factor: The brand's foray into 360-degree
video was complicated, and marketing director Maureen McCarty describes what she learned
about how to roll out such a campaign—and that sometimes, less communication can be more.
Throughout these case studies, we offer you bonus materials such as calendars, org charts,
checklists and visual examples to make it easier to put the wealth of advice you find here to work
for you. We thank our expert authors for sharing the methods behind their accomplishments, and
we hope you can build on their work to create the great communications campaigns of tomorrow.
Chapters
Featured Companies
This guidebook features case studies and contributions from companies like:
Samples
Here's a sample of some of the exclusive content in this guidebook:
Buy Now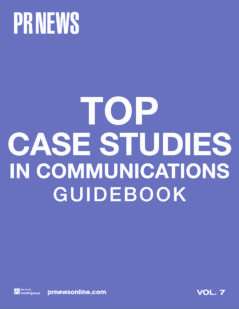 If you have any questions or would like to order by phone, contact Client Services at [email protected] or (888)-707-5814. All PR News book sales are final.