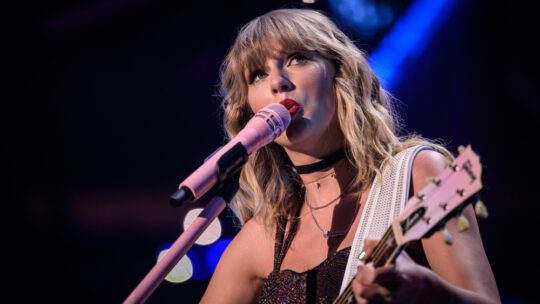 This week's PR ups and downs follow Taylor Swift's foray into football, Delta's dash to appease loyalty customers and the Writers Guild of America coming out on top when it comes to the recent strike and American interests.
Taylor Swift Effect
What happened: Thanks to Taylor Swift, everyone from grandfathers to tweens have been talking about Kansas City Chiefs' tight end Travis Kelce and the National Football League this week. In fact, Kelce's jersey saw a 400% increase in sales this week, according to The Associated Press.
After Swift's successful summer of the nightly sold-out Eras' Tour, everything the singer touches seems to turn to gold. Her latest hit? Showcasing a new relationship with Kelce, the popular football player.
Television ratings also spiked with an increasing demographic this weekend—female viewers. According to ESPN reports, females aged 12-17 viewership grew nearly 8% from a year ago. Actually, the broadcast led in every female demographic. You can only imagine what it will be this weekend, since Swift announced she will be attending Kelce's next game at MetLife Stadium versus the New York Jets.
Especially if the camera crew once again finds her waving from a visitors' box.
Communication lessons: Eric Yaverbaum, CEO of Ericho Communications says anyone who gets involved with someone as famous as Taylor Swift should expect to see their own public reputation levitate.
"Nothing in this world is certain, except death, taxes, and that when Taylor Swift dates someone new—there's always going to be a media circus around it," Yaverbaum says.
Yaverbaum is curious about the publicity tactics surrounding the relationship.
"It's likely that Taylor Swift and Travis Kelce wanted the world to know about their relationship for one reason or another," he says. "Alternatively, if they didn't care and decided it didn't matter if people knew, there had to be some level of forethought given the amount of press a relationship like this would get. Early rumors of the couple came from a friendship bracelet Kelce made for Swift, and then, subsequently, rumors weren't denied by Kelce's brother. Kelce even publicly stated his celebrity crush was Swift. I mean, this either points to an established romance worthy of publicity or a very intentional public show to draw more fans to the NFL."
Yaverbaum noted the publicity lift for the NFL as well, particularly on social media.
"Notably, the NFL's current TikTok bio reads, "Taylor was here," he says. "I tend not to be cynical, but celebrity coupling is a well-known PR tactic and for good reason—it makes for great storytelling and can do a lot to shift public perception or boost a figure's celebrity. And when someone as media savvy as Swift is involved, it's absolutely a possibility (they don't call it "Swiftonomics" for nothing). Regardless, it's clear this pairing has benefited the NFL and Kelce. The NFL is already incredibly popular, and knows it needs to go beyond its typical base if it wants to expand even further. This could very well help do that (TikTok is now replete with NFL related content)."
Delta Airlines Infuriates Loyalty Customers
What happened: Delta, known for its excellent frequent flyer program, ruffled a lot of customer feathers when it recently announced changes for current members.
According to The Associated Press, "Delta said starting in early 2025 it would base elite status purely on spending, instead of also counting flights, and limit airport club access for holders of Delta credit cards."
Members took to social media to voice their displeasure, and competing airlines like JetBlue and Alaska Air hopped on to lure those customers to their own frequent flier programs.
Early this week, Delta CEO, Ed Bastian, reeled the crisis back at a speech for the Atlanta Rotary Club.
"No question we probably went too far in doing that," Bastian said. "I think we moved too fast, and we are looking at it now."
Delta is currently revisiting the changes and looking to create a plan that works for the company and its members.
Communication lessons: Michael Grimm, Vice President, Reputation Partners, says the crisis appears to be "self-inflicted" with the possibility of an information leak. A Portuguese-language website originally leaked the news, which was later confirmed by a Delta spokesperson.
Preparation, as with any crisis, remains key.
"When companies are planning such a significant adjustment to customer loyalty rewards…that impact the all-important customer experience, they must have a thoughtful, transparent and…proactive communications strategy to inform why the changes may be made and in what timeframe," Grimm says. "[They should also] receive feedback from customers and give ample time for customers to prepare for the changes vs. abrupt headlines that blindsided Delta's most loyal customers."
And as most people are not comfortable with change, particularly when it affects rewards status or points, Grimm says it's best to research research research in advance.
"Some easy ways to get ahead of such a backlash: perform customer surveys to reveal sentiment about potential changes, hold customer listening sessions, test the program in a select market before revamping globally and more."
Writer's Strike Gets Good Promo
Aside from Taylor Swift, one entity that has almost achieved such extensive publicity is the Writers Guild of America strike. TV and movies are important to many Americans—live, streaming, scripted, etc.—and so many viewers have eagerly been awaiting a deal to be reached to make sure their entertainment could go on as planned.
According to new insights from Samba TV and HarrisX, the WGA did something right when it came to the strike, as a majority of people had knowledge of it. Seventy-four percent of U.S. adults said they had heard of the strike.
In fact, two-thirds of adults believe the strike is important if content is delayed or canceled. Gen Z and millennials were most likely to say it is important (74% and 80%, respectively).
And in terms of audience support—the majority of all generations support the strike, including 4 in 5 Gen Z and millennials and 2 in 3 of those in Gen X or above.
Millennials followed the strike most, with 3 in 5 saying they followed the strike at least once a week.
"With the WGA strikes resulting in a tentative deal and all eyes now on SAG-AFTRA, the impact on viewers is already being felt," says Samba TV Co-founder and CEO Ashwin Navin. "While the majority of generations support the strike, they also are expecting major slowdowns with their favorite shows. We believe that no matter what, the industry will emerge with more transparency that will benefit the publishers, writers, talent, and viewers alike."
Nicole Schuman is senior editor for PRNEWS. Follow her @buffalogal