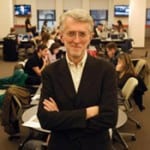 The Council of PR Firms' Critical Issues Forum last week featured a spirited debate about the growing influence of so-called native advertising, or branded content, which has quickly become a key component in marketing communications.
Native advertising is broadly defined as brand messaging that's aligned with relevant editorial content. As the Web continues to upend traditional PR and marketing channels, brands are increasingly looking to communicators to create useful content and find the appropriate media vehicles to distribute it.
In order to distinguish itself from non-sponsored journalism, branded content is labeled. But some argue that native advertising  blurs the line between editorial and advertising content and erodes the value of both the brand and media property.
Nevertheless, with marketers and communicators having to develop new revenue streams, the trend is likely to accelerate.
"I feel that the newsroom culture remains extremely calcified," said Lewis D'Vorkin, chief product officer of Forbes Media, whose "BrandVoice" product enables brands to develop content that runs alongside Forbes' editorial properties in print and online. "The newsroom culture is also very entitled and it's very difficult when you have that kind of entitlement to understand that it's really about the community, it's really about the audience." (D'Vorkin will be keynoting PR News' Media Relations Conference at the National Press Club in Washington, D.C. on Dec. 12.)
Media analyst Jeff Jarvis, author of BuzzMachine and an associate professor at City University of New York's Graduate School of Journalism, stressed that PR executives should not be seduced by the now-popular notion in marketing circles that you need to produce more and more content and consider yourself a quasi media company.
"Content is a shaky business," Jarvis said. "I would argue that you should be in the business of relationships. What's your profession? Public relations. It's not about making messages with new names."
Jarvis, author of "What Would Google Do?" (Harper Business), told the few hundred PR people gathered for the conference that rather than get caught up with content marketing they should look to Google as a business model as they transition to a digital age.
"Google can give us that relevance because it has relationships with us—not with the mass—but as individuals with a need," he said. "That is what every company, every one of your clients should be endeavoring to be doing, not creating more crappy content for the world."
Amy Webb, founder and CEO of Webbmedia Group, added that "branded content" is an old concept by a different name, and that the channel should be subordinate to the storytelling.
"The onus is on you not to have relationships with media companies to send your content somewhere," she said. "The onus is on you to figure out different ways of delivering meaning, harnessing data, putting some context around it and personalizing experiences for each and every single of your clients' [and] brands' consumers. That's a difficult challenge…You have to start doing that now to anticipate what's coming in the next few years."
Follow Matthew Schwartz: @ mpsjourno1