Here are three under-the-radar social networks that are gaining traction. Get to know them now in case Murdoch's prediction becomes a reality.

The 5 things you need to do (or have already done) to land full-time work in communications.

No one would ever accuse Captain Kirk of being professorial and aloof—or of being a media trainer. But it could be a profitable second career for him in the next sequel.
Features
PR veteran Jack Felton died earlier this month. We gathered some thoughts about his impact on the PR profession from a few members of PR News' Measurement Hall of Fame, who are all disciples of Felton.
Last summer, the car rental company rolled out a new dashboard that integrates its social channels into customer service.
Here's a snapshot of PR News' May 14 Writing Bootcamp in Washington, D.C.
Any good PR person could tell you that it is relationships and actions—not ads or new messages—that will ultimately shape people's opinions of your company.

Pinterest has opened the door to discovering hundreds of creative food-focused bloggers, each with his or her own unique style and taste.
PR News Blog

PR News TV
Deals of the Week
$150 off our Content Marketing Boot Camp June 18 in NYC
Now is the time for in-house communications professionals and PR agencies to expand their roles in the content landscape.
Use code "150DEAL" at checkout.
Get $50 off our Crisis Management Guidebook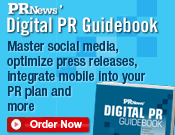 This latest edition of PR News' Digital PR Guidebook is packed with how-to articles, first-hand insights and proven digital tactics that will take your communications initiatives to the next level.
Use code "DBKDEAL" at checkout.
Save $100 on a PR News Subscription
Let PR News become your weekly, go-to resource for the latest PR trends, case studies and tip sheets. Topics covered include visual storytelling, social media, measurement, crisis management and media relations.
Use code "SUBDEAL" at checkout.