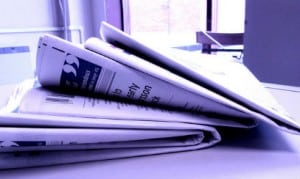 In honor of National Newspaper Week, we culled some choice quotes from media executives regarding the state of print media. PR execs, of course, work hand-in-hand with journalists, so as goes print so goes the evolution in media relations.
"The [Washington] Post is famous for its investigative journalism. It pours energy and investment into uncovering important stories. And then a bunch of Web sites summarize that work in about four minutes for free. How do you make a living in that kind of environment?" — Jeff Bezos
"All of the time-tested approaches are falling away to the new and disruptive realities of our digital age. That includes advertising revenue, newsstand sales, frequency of information being delivered and even the basic assumption that consumers will continue to subscribe to frequency-based publications." — Malcolm Netburn, CEO, CDS Global
"We're not going to be a magazine company at all. If you're People Magazine, your competition is Facebook, Twitter." — Joe Ripp, CEO, Time Inc.
"I am proud of what we did with Newsweek in the battle we waged to save it from the overwhelming forces of media change."  —Tina Brown, The Daily Beast (Tina Brown resigned from the publication last month.)
"It struck me that we, the media industry, are like characters in a sci-fi B-movie where Earth is threatened with destruction by an incoming asteroid." — Neil Thackray, The Media Briefing
"There are great tech companies and great editorial institutions, but it is very rare for one company to take both as seriously as we do." — Jonah Peretti, BuzzFeed founder and CEO
Follow Lucia Davis: @LKCDavis.