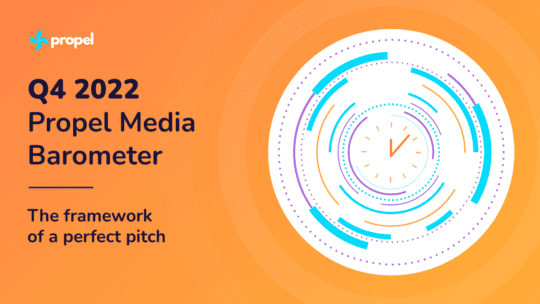 A recent survey conducted by Propel, a PR management platform, revealed positive news for media relations pros. The Q4 2022 Propel Media Barometer found journalists are responding to pitches more often. 
Zach Cutler, Propel co-founder, CEO & chairman, and former PR agency owner, believes this uptick stems from changing PR strategies. 
"We've found PR pros are sending pitches with [fewer words in them and] shorter subject lines," Cutler says. Propel analyzed more than 400,000 pitches.
For example, a 500-word pitch can translate into a full-page Word document. Some journalists receive tens to possibly hundreds of pitches daily. There isn't time to read everything. 
Propel's analysis found 23% fewer pitches of 500 to 1,000 words were sent in Q3 vs Q2. Similarly, there was a 6% increase in 50-149-word pitches sent compared to last quarter. These shorter pitches received an 8.3% response rate, the highest of the pitch-length groups. 
Less Talk, More Action
During the past several years, Propel's barometer showed a downward trend in journalists' response rate, resulting in an uphill battle for PR professionals seeking earned media coverage. 
The good news is that the average open rate on pitches was 40.28%—slightly higher than the Q1 open rate (36%) and the Q2 open rate (37.78%). Much of this has to do with the length of a pitch.
The length of subject lines also seems to play a role. While subject lines of 16 words or longer were getting the highest open rates, their response rates were less than half of pitches whose subject lines were between 6 and 9 words, with rates of 1.66% and 3.82% respectively.
"Journalists are...busy, so get to the point quickly while answering key questions," Cutler says. These include:
what and who the story is about
how it's relevant to the news cycle and the journalist's beat and
why the journalist should care about the story enough to cover it
Best Times for Response
The barometer also provided information regarding when communicators could expect a response from a journalist—so only a few hours after sending, they better stay close to their phone and email. 
Propel found 58% of journalist responses occur within four hours of the pitch being sent. And journalists read 56% of pitches within the first hour of receipt. 
The day of the week also seems to make a difference. Data found mid-week is the most popular time for PR pitch engagement. Communicators sent most pitches on Tuesdays and Thursdays. Journalists opened the most pitches on those days.
Journalists sandwiched responses between these days, with most replies occurring on Wednesday.
However, if you do not receive a response within that four-hour window, Cutler says not to fret. 
"This data doesn't mean that if at first you don't succeed, quit," he says. "We find it's beneficial to send a followup email the next day. If you still don't get a response, then it's best to move on." 
While the research shows that the majority of stories are published within three days of the initial pitch, you never know. Some days journalists will be cleaning their inboxes and may come upon your message at the right time they are looking to cover that exact topic. There is still a less than 12% chance you may receive a response.  
Best Practices for Pitching
While some communicators love whittling down long copy, it can be a challenge for others. Cutler says giving less background information helps shorten pitches.  
"Give enough information to pique a journalist's interest but not give away the whole story," he says. "If a journalist is interested, they'll reach out and ask follow-up questions, or even better, request an interview to get the full story." 
Also you may find more luck if you are pitching in the "food & drink" category. Fun barometer fact: "Food & Drink" was the most-pitched topic, but owned the highest average journalist response rate—4.45%.
Nicole Schuman is senior editor for PRNEWS. Follow her @buffalogal