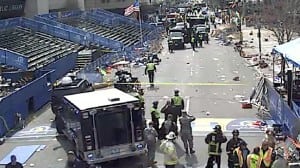 With the country reeling from the tragedy in Boston, in which three people were killed and more than 100 injured, many of them critically, how should brands respond to the tragedy?
For many communicators it might be wise to lay low, particularly when it comes to their social channels, other than to express their condolences to the victims of bombing.
For example, Scott Monty, head of social media at Ford Motor Co., posted this piece of advice for his PR brethren at other brands: "If you manage social media for a brand, this would be a good time to suspend any additional posts for the day."
Other brands might communicate what they are doing to assist in the relief efforts, whether that means financial donations, organizing a blood drive or volunteering to assist with city services.
Google, for instance, has added the category "Boston Marathon Explosions" to its Person Finder tool, which is designed to help friends and family members locate loved ones during humanitarian disasters.
With the wounds still raw, communicators need to be very careful in the language that they use and cognizant of how people may react to their messaging.
"You don't want to be seen in any shape or form as capitalizing on the horrific event" in Boston, says Steve Cody, managing partner and co-founder of PR agency Peppercomm. "If you're involved in hospitality [or any industry associated with the event] you need to take a big pause before you hit the Send button. You have to put yourself in the shoes of anyone who was impacted" by the bombings.
Brands will have to do some soul searching on how soon is too soon to go back to business as usual on social channels. But, at least for the next few days, the driving force for communicators should be tell their stakeholders and the public a story that's about assistance for Boston and the victims of this deadly attack.
"You don't want to go off the radar," Cody adds. "You need to express shock, outrage and compassion [for the victims] and then explain how your brand might make any of its resources available to the federal, state or local governments involved in the investigation or the families who were involved."
Follow Matthew Schwartz: @mpsjourno1