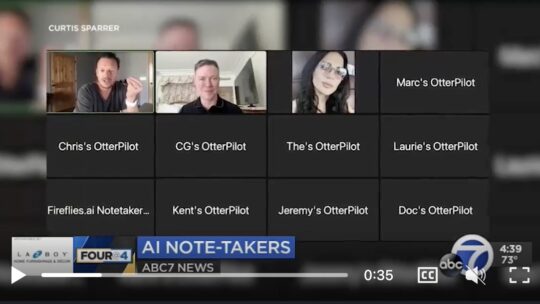 Attending online meetings is a regular part of my duties as a PR agency principal. And like most people, I've lost count of how many times I've logged into Zoom over the last three years or so.
Yet a recent video meeting threw me for a bit of a loop.
A dozen screens appeared on the meeting—yet only three of them were actual humans!
The others were AI meeting assistants—those co-pilots and companions designed to transcribe conversations, take notes, write meeting summaries and create minutes, among other things.
Bots like this are on the march. It's almost certain this category of add-in products for virtual meeting platforms will become very mainstream, very soon—outnumbering us all.
For example, Google's Duet AI will be deeply integrated with its Google Meet product. Still in preview phase, Duet AI is reported to have a "summary so far" feature that will update you on what's happened in a meeting if you show up late. This is a feature we can all embrace—and it highlights Google's obvious strategy of vertical integration across its Google Workspace suite.
Those Bots Got(s) Me Some PR…
I shared my more-bots-than-people meeting experience with ABC television producer Stacy Tiffin, who featured my screen shot on an afternoon newscast, much to the amusement of the San Francisco-based anchors, as you can see in my LinkedIn post.
This publicity for my PR agency was helpful, fun and relatively easy to obtain, thanks to my relationships with the local TV news producers and my familiarity with newsjacking as an effective PR technique. The meeting anecdote resonated—and was deemed to be newsworthy—because it was timely, relevant and in-sync with what's happening now.
…And Reinforced the Idea that an Image is Worth a Thousand Words
My quick PR hit on the afternoon news demonstrated that good PR doesn't always need to be in the form a press release or a slide deck.
Sometimes all it takes is the right image to become an integral part of a successful PR campaign.
After all, who among us (over a certain age, anyway) can forget these iconic news images. And images with taglines such as "Got Milk?" and "Just Do It" from great advertisements and marketing campaigns. Even public service campaigns like the now-controversial ad for Keep America Beautiful, which featured a crying Native American (portrayed by an Italian-American actor) witnessing the mistreatment of our planet are forever stuck in our minds.
Why PR Pros Should Use Images More Often
All of these images, both moving and still, remind us that visuals have incredible storytelling power. As an obvious shorthand for the messages that we seek to convey, powerful and compelling visuals can be among the best ways to cut through the clutter and be truly seen.
Painting a picture through actual pictures is something my PR agency has done in the past.
For example, the Bospar team did a campaign for Swiss computer peripheral maker Logitech, creating a photo of the mouse's original inventor, as well as a number of historical "mice" and prototypes that paved the way for what is today's computer peripheral industry.
The photos provided the media with important historical context and established the "mouse as a milestone." Results for our campaign included more than 1,000 people at a special mouse-related event, along with hundreds of millions of media impressions achieved through more than 300 media placements, including top-tier outlets like Time, Newsweek, The New York Times, USA Today, The Washington Post, CBS, NBC, ABC, CNN and PBS.
In another example of the power of images for PR, our company created a campaign for Tetris. It included convincing Google to change the daily "Google Doodle" to a Tetris illustration.
This helped Tetris reach 100 million paid mobile downloads and generated more than 2 billion global media impressions from Tetris coverage in AP, Reuters, Time and other media outlets.
Think Visually
Creating great visuals is one of the many ways that PR, marketing communications and advertising people can make a big impression. Creative brainstorming and a willingness to think outside of the box are critical in focusing in on images that will resonate with key audiences.
By using some of the latest generative AI tools, like Microsoft's Bing Image Creator, you can start brainstorming visual ideas. Check out the result that I got when I entered the phrases "old time newspaper photographer" and "AI virtual meeting assistant" in Image Creator.
ChatGPT has arrived. We're already outnumbered. And that can sometimes be a good thing.
So, go ahead and summon AI.
Don't be shy about using it to capture what happens in your meetings. And if you're feeling creative, use it as a jumping-off point to build out ideas, taglines and even entire visual campaigns.
Curtis Sparrer is the Principal at Bospar.