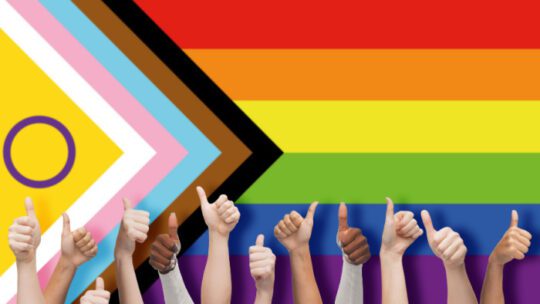 Companies must communicate thoughtfully—and authentically—throughout LGBTQ Pride month this June. Consumers are paying attention, and "rainbow washing" will backfire. Lazily slapping rainbow colors on logos for one month simply won't cut it in 2023.
Many LGBTQ people reject this practice. Activists have called out companies that wave the rainbow flag yet support politicians who voted against the Equality Act. This pushback is unsurprising. There are record-high anti-trans bills. Forty-one percent of LGBTQ youth "seriously considered" attempting suicide in the past year, according to The Trevor Project. 
The Authenticity Solution
Authenticity is everything. By showing that your company walks the walk, you will improve your bottom line; LGBTQ people hold $1.4 trillion in annual spending power. More importantly, you'll help make a positive difference.
Show, Don't Tell
"Showing" is better than "telling." Show, don't tell means conveying a true and vivid picture that allows the audience to draw their own conclusions and make their own connections to your story. The New York Times Learning Network reckons most people have been taught the technique "since grade school."
Take heed, communicators: from corporate branding to media relations, show, don't tell is critical during Pride month. Don't just tell your audience that your company is an LGBTQ ally. Instead, show them.
Here are three tips to help your organization "Show, Don't Tell" this Pride month.
Don't turn your logo into a rainbow. Do show visuals proving you are genuinely embracing the Pride flag being flown in meaningful public spaces.
Adding rainbows to your company logo on social media looks performative. A more meaningful way to communicate allyship is to show photographs and videos of Pride flags hung publicly throughout your company's shared spaces. Pride flags hung in a company canteen or gym shows an employer caring about employees' safety and feelings in the workplace.
Go a step further and distribute the Progress Pride Flag, designed by Oregon-based artist Daniel Quasar to capture an intersectional, inclusive expression of pride. Share visuals of employees flying this Progress flag, as the NIH has done. Posting these visuals on social media and other channels is far more impactful than temporarily changing your logo during June.
Don't talk about LGBTQ employees. Do let them speak for themselves and do amplify their voices.
Publishing broad "Celebrating Pride Month" statements, as Kohl's and KPMG have done, is a quick way to tell us that the companies acknowledge LGBTQ employees, employee resource groups (ERGs) exist, and donations have been made. These statements tell us what we already know. They don't deepen our understanding of the company's values of inclusion. LGBTQ consumers are done hearing from non-LGBTQ executives telling us about how diverse their staff is.
Show authenticity by handing LGBTQ employees the microphone—and social media channels—to share candid stories. This shows that the company is a real part of an LGBTQ individual's life story.
For example, Sanofi aired a video to its 70,000 Instagram followers showing Jake, their ERG leader, describing his coming out story from start to finish. By the end, viewers learn of the compelling link between Jake's gay identity and his ERG leadership in which he hopes to "create a similar story for all his colleagues who may be struggling to come out." Jake doesn't say that Sanofi is perfect, but we are shown his raw story, and viewers can infer that Jake—and Sanofi—are supportive of LGBTQ struggles and identities.
LGBTQ employees are the best messengers, especially when they are given ample video time. L'Oréal is also sharing stories through their Proud To Be social media series.
Don't pitch reporters your "we're celebrating pride" statement. Do seek earned media for newsworthy stories of inclusive company practices.
What is your company doing to move the needle on LGBTQ progress? Before doing media outreach, think about your differentiators, and what potential headlines would be. Perhaps it's: Company Triples Previous Year's Donation to Trevor Project Due to Increase in LGBTQ Youth Suicides.
Or, consider newsjacking. National outlets reported Target pulling down some Pride merchandise after far-right extremists' protests. Perhaps your company can tap into this conversation by showing that your actions are different from Target's.
Or, show reporters that your company is adding to the bigger narratives and trends. For instance, GLAAD's "Accelerating Acceptance 2023," reported in outlets like CNBC, shows that 74% of non-LGBTQ adults are comfortable seeing a same-sex couple holding hands.
Does your company have ads showing same-sex handholding to increase GLAAD's 74% statistic? Media relations during Pride month must foreground unique stories, relevant conversations, and concrete results.
Get it Right
Show, don't tell doesn't just apply to school writing assignments. Given today's complex climate of hateful attacks against the LGBTQ community, the communications stakes for organizations this Pride month are higher than ever. Showing authenticity is necessary.
Robert Conner is a media relations manager at Scott Circle Communications, a public relations firm in Washington, D.C. He is an activist and expert in LGBTQ communications and media who was named by Business Insider magazine as a top rising star in public relations in 2023.