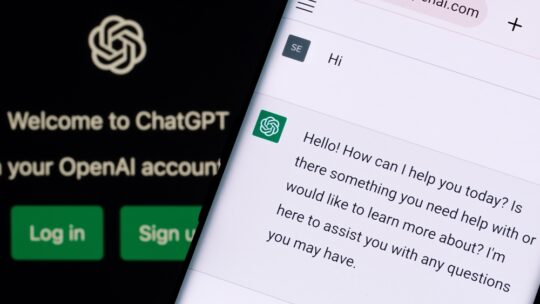 Discussion about "quiet quitting" is so out. 
Everything about ChatGPT is in. 
It seems you can't avoid a discussion on LinkedIn or Twitter that doesn't include ChatGPT. The artificial intelligence content creator has potential for assisting communicators and companies. Accordingly, people are throwing everything from blogs to emails to customer chatbot interactions at ChatGPT. 
However, the tool is new and has flaws. ChatGPT may help organizations without resources for a communication department, but, so far, the solution's worth remains up for debate. 
PRNEWS conducted a poll Jan. 23, asking how respondents would use ChatGPT. Would they let it write press releases or provide customer service responses? Maybe write social media copy? Some PR pros want to avoid it completely. The poll was posted on LinkedIn and Twitter.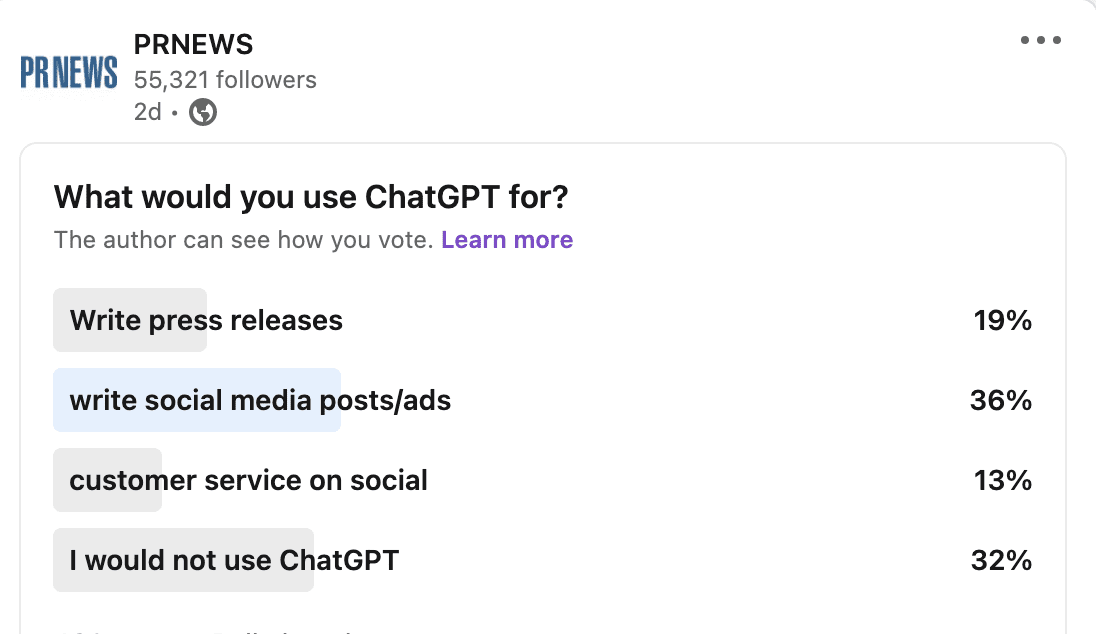 What would you use ChatGPT for?

— PRNEWS (@PRNews) January 23, 2023
The majority of Twitter voters (43%) and more than one-third of LinkedIn respondents said they would not use ChatGPT. However, when it came to those curious about the tool, the majority said they would use it to help write social media posts and ads. 
The action getting the least support? Customer service on social media. 
Help with creativity
Those favoring ChatGPT indicated they would use it for drafting and ideation—but not necessarily for a finished product. 
Zoë Murray, a digital marketing executive, said while she doesn't use ChatGPT's "given copy, it's great for inspiration." Similarly, Michelle Johnson, a former communication chief for the U.S. Army and current communication doctoral student, said it's helpful for drafting, but she "abhors" ChatGPT as a "replacement for customer service." 
Human element needed
A tenet of communication is connecting people. Many responders, including those who've tried ChatGPT, did not find it conducive for communicators. 
Brian McDermott, a director of strategy and communication, tasked ChatGPT with composing an email pitch. He was not impressed with its creativity.  
"[The copy] was dry, not very creative, but it got most of the messaging right…and [the text] was clear."
Likewise, Jennifer Poythress, a PR manager turned Metaverse marketer, considers ChatGPT useful for drafting press releases, social posts and more, but doesn't see it as silver bullet. 
"ChatGPT is a great tool to get started, but we still need humans to finesse!"
Ethical concerns
The responsible PR pro always considers audience members. Is ChatGPT's content serving audiences well? Is it providing the best possible connection? Is it delivering correct information in a creative, thoughtful way?
From an ethical standpoint, must organizations reveal when a human is not writing content? 
Caroline Medley Freeman, a content marketing specialist, addressed moral concerns in a LinkedIn comment. 
"For use cases in the PR or journalism field, there's the question of authorship to contend with. Some publications [include] disclaimers when AI is involved with the development of an article...but there is no industry standard and certainly no legal requirement. 

These answers won't come in a vacuum. I can't tell you what's right or wrong, but what I do know is that every industry working with or around AI needs to be having these conversations, and every governing body needs to be setting standards and precedents for how to handle AI material."
Nicole Schuman is senior editor for PRNEWS. Follow her @buffalogal