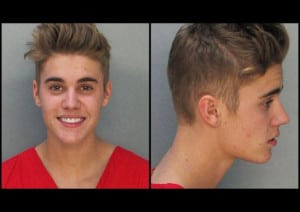 Justin Bieber has had a rough couple of months. The 19-year-old platinum recording artist was arrested on suspicion of driving under the influence in January, and a toxicology report confirmed that THC, the hallucinogenic ingredient found in marijuana, and Xanax were in his system at the time of his arrest. A few days after posting bond, he was again arrested and charged with assaulting a limousine driver in Toronto.
Bieber's popularity and influence are undeniable. He has nearly 50 million Twitter followers, making him the second most-followed person on the microblogging network. Forbes lists him 9th in their rankings of the most powerful celebrities. And he's worth more than some small sovereign nations.
Bieber's recent actions have sparked some negative press, which may erode his brand and turn off his fancies, which is composed mainly of teenage girls. Or, maybe his fans will think Bieber is even "tougher" for smoking weed, taking pain killers and attempting to fight people.
Either way, we queried our audiences on Facebook and Twitter, asking how Bieber can clean up his image. Here are some of the best answers we received:
"Everyone loves a winner. Go back in the studio, make a few hits, stop acting like an idiot. It's that simple." - Michelle Brown, Kaliah Communications, Inc.
"Take a much needed time out!!" - Hayley Sweet, Spark Public Relations Consulting
"It would take a team of Daniel Edelmans to clean up his image." - Raluca Tarcea, @rtarcea
"Stop Instagramming pics in which he looks high as a kite." - Shalee Hanson, @ShaleeH
"Haitus preferably in Canada or low media coverage country. Comes back older, new look, growth in lyrics and a cause to champion-purpose beyond partying." - Nanziri Mary Milan
Follow Brian Greene: @bwilliamgreene