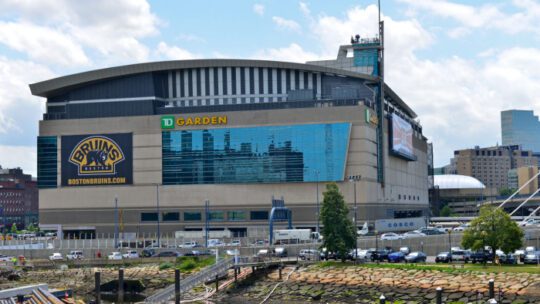 Earlier this year, Delaware North and TD Bank announced a naming rights extension that keeps the Boston arena named "TD Garden" through 2045.
With the extension, TD Bank committed more than $15 million in community programming, including two new programs, including the "TD Guest List," which provides complimentary tickets to an individual or group from an underserved community, and the "TD Garden House Artist," which commissions local artists from underrepresented communities to create transformative art in and around TD Garden.
PRNEWS recently spoke to John Pluhowski, Chief Communications Officer for Corporate & Public Affairs at TD Bank, about the deal and how it fits into the bank's larger corporate narrative.
The interview has been edited for length and clarity.
PRNEWS: Tell us a bit about how the deal came to be, and how the PR department was involved in creating these programs.
John Pluhowski: What's important to us is how we engage the community; when we were looking at how we wanted to communicate [this agreement], we saw it as a bit of a celebration of our commitment to Boston and the greater community, but also an extension of how we think about community.
When it comes to community…our employees volunteer thousands of hours in community activities. This passion for being part of the community, where you live and where you operate, is something that's truly unique to TD…We describe it as unexpectedly human, meaning we do the things that people sometimes don't expect [from a financial institution]…
So when we started planning how we wanted to announce this extension, it was really important for us…to talk about what we're going to do in the community, and that led to this discussion about making the additional commitment of $15 million…It gets back to our brand promise, which is really around enriching the lives of our employees, our colleagues, our customers, but also those in the communities where we live and operate.
So to your question about whether it was an extension of PR to drive engagement, it was [about]…providing those in the community access to tickets... And that's not a pure activation during a certain month of the year or a certain week. That's year-round...
PRNEWS: If you go to New York or Boston, it feels like there's a bank on just about every corner. How do you break through the noise? Was that part of the thinking, with this activation?
Pluhowski: We're really a challenger brand in the U.S….15-plus years ago, TD had no presence, from a retail banking perspective, in the U.S. Now it's a top-10 bank….You have to be smart about how you cut through the clutter…There's over 2,000 banks in the U.S., so what is our value proposition? How does it differentiate from our peers, our core competitors?
What's special to us is that human connection. If you were a TD customer, and you were to walk into one of our branches (we call them stores)…we greet you by your first name.
When I walk into my store, they greet me, not because I'm an employee, but because I'm a customer. In a highly competitive industry…that is a point of differentiation. And we try to express that through [a consistent]…omni-channel experience.
PRNEWS: Talking about consistency, how many communicators are on the team? And how do you keep them consistent?
Pluhowski: Our colleagues are in every one of our major markets. I firmly believe that living in the market where you operate gets you closer to really understanding what's important to that community. We're a team of 40-plus; our main concentration is in Mount Laurel, New Jersey, but we are…really spread out across our footprint, which is Maine to Florida.
We remain consistent [by being] focused on the priorities of the bank…We are very clear as to our story, our narrative, and how we bring that narrative to life with every touchpoint.
…Create the opportunity where you let others tell your story for you...We know when someone else tells our story, it can be far more powerful than us telling that story…When you have a colleague, or you have a customer, even an outstanding member in the community, an influencer, who speaks on behalf of the bank, that's truly advancing an effort in the community…
PRNEWS: If we met again at the same time next year, what one thing do you hope to accomplish in 2023 to improve the bank's reputation, the story, the brand?
Pluhowski: In February of last year, we announced our intention to acquire First Horizon… If I were looking back a year from now, we would say, successfully communicating to our employees, to our customers and our new customers…who may not know us…helping them understand what value we provide them, what services we provide, but just as importantly, our commitment to their communities, what we're going to do to enrich their communities…
PRNEWS: If TD Bank enters a part of the country that you haven't been before, how do you, as a communicator, handle the process? What questions do you ask? What sorts of things do you do to get acquainted with the area?
Pluhowski: One thing we do is actually talk to those in the community, whether they are customers of other institutions, whether they're influencers, leaders in those communities who can help us understand what is important…
And then looking at our offerings, and whether we think our offerings can help at least satisfy the needs for banking products and services that community has. What are the community needs that perhaps haven't been addressed yet that we should be looking at addressing? Those are mainstays of how we think about new markets and introducing ourselves.
PRNEWS: How do you maintain an intimate relationship with people, when TD Bank is so big and things are done digitally? What do you tell your colleagues to do to make sure there is still a human touch?
Pluhowski: One, consistency in how you present yourself and making sure that you are really, truly, delivering the brand promise that you say you're committed to delivering. Second is personalizing that experience. So we're connecting with you. What can we do to help make you feel special? Because that is part of our brand proposition. That's the unexpectedly human piece.
The third piece, what do I tell my colleagues here on our communications team? What's unique about us is we are integrated into marketing…So we benefit from their skills in digital, their access to insights that we can leverage as far as understanding how we should be prioritizing our communication. What are the stories we think we want to tell versus what our customers are telling us is more important to them?
I will tell you that integration with marketing is probably one of the key differentiators for us as communicators…We're letting those insights inform how we think about strategic communications.