Early adopters and nimble communications pros are using Instagram, the photo editing and sharing platform, for just about everything. Simply Measured found that 54% of the Interbrand 100 companies use Instagram, and that the platform grew 35% among brands in the Q3 2012, outpacing the growth of Google+ and Pinterest.
The question is, though, is your brand ripe for using this hot communications tool? Donetta Allen, VP and social media practice leader at Hunter PR, suggests that you ask yourself these four important questions before you grab an iPhone and start snapping away.
"Does your brand already have a social media presence? Most organizations use Facebook and Twitter to showcase their Instagram photos," says Allen. In fact, the Instagram-Facebook combination has proved very valuable for brands. More than 90% of Instagram photos posted by brands were also shared to Facebook, allowing consumers to engage natively on both platforms, reported Simply Measured. Brands actively cross post to Twitter as well, with 60% of photos being tweeted.

"Does your brand have a lifestyle story it can tell through photos? If not, you may want to consider another platform from which to get your messages out," says Allen.

Do you want to engage your fans through photos? "Some brands, particularly in non-consumer spaces, don't lend themselves to photos," says Allen.

Is it important to reach your audience through their mobile devices? "Since a majority of people now have smartphones, for most this answer will be 'yes,'" says Allen.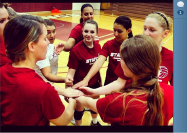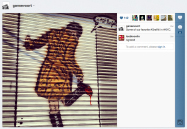 Instagram in Action: (top) GE's photos of its engines inside planes and helicopters have drawn a rabid following; (middle) the local press picked up this shot of Montgomery County Community College's volleyball team, which resulted in coverage; (bottom) the Gansevoort Hotel Group posts cool photos of its hotels and their neighborhoods—this one was taken in NYC's Meatpacking District.
Sold on Instagram yet? If so, or if you've already begun experimenting with it in your communications, here are five tips from a wide range of PR professionals who are using it well:

Chad Torbin, media relations manager at McDermott Will & Emery LLP, a top law firm in Washington D.C: Start with a short campaign, with a clear start and end date. This makes it simple and easy to track.

Alana Mauger, director of communications at Montgomery County Community College (campuses in Blue Bell and Pottstown, Pa.): Engage in genuine dialog—interacting with other Instagram users is just as important as sharing your own pictures.

Sai De Silva, founder of jewelry accessories site RequiredFlare.com: Team with bloggers and other influencers that also use Instagram for promotions and contests. Leverage their followers.

Gansevoort Hotel Group, Douglas Brundage, the Group's chief digital strategist: If your brand demands a more professional look to its photos, try third-party editing apps like Snapseed.

Katrina Craigwell, manager of digital marketing at GE: Identify the strongest thing you have to share. We do our best with big pieces of technology. Don't stray from your strongest offering. General Electric uses Instagram to showcase its historic archives, factory machinery and jet engines.
Follow Bill Miltenberg: @bmiltenberg