High-Tech CMO Roundtable - Partial List of Participating Companies
Aderant
Artemis Automation
bigWebApps
Brasfield & Gorrie
Brickstream
Brightree
Cbeyond
Champs Enterprises
CodeGuard
ControlScan
Cortera
Craneware
Datatrac
Digital Assent
Ebix Health
EnerSphere
GigaOM
HireIQ Solutions
IDology
InContext Group
Mariner
MedAssets
Meggitt Training Systems
OB10
ObjectFrontier Software
Panattoni Construction
PMG
PossibleNOW
Premier Logic
Preparis
Scribit
ShopVisible
Surgical Information Systems
Teradata
TerraGo Technologies
TraceGains, Inc.
Travelport
Vendormate
vlink Solutions
Wire Mesh Products, Inc.
WOW! Internet, Cable & Phone
Marketers and PR executives in the technology sector can agree on a few overarching major trends and concerns that most of them will be facing in 2013, but one issue separates them into two camps: the history and size of their companies. Marketers and PR execs at newer and smaller high-tech companies have more flexibility to act on trends and adjust their communications and marketing plans than those at older, more entrenched firms, according to attendees at the sixth annual High-Tech CMO Roundtable, co-sponsored by Arketi Group and PR News.
Among the biggest lessons or surprises of 2012 that attendees at the Oct. 18 event in Atlanta expect to build into their 2013 marketing plans is the power of relevant, original content to improve search results for their companies; the need to prepare for near-catastrophic tech disasters, such as a site going down for three weeks; the difficulty of getting approval from clients to shoot video testimonials; and, as one roundtable attendee said, the plain truth that "if you're a software company you had better have a mobile marketing strategy."
High-tech marketers and PR pros also find themselves taking on more of a traditional journalist's role as they devote more of their time to creating original, useful and shareable content for their industry sectors.
When it comes to developing a company mission statement or a "big idea" marketing plan, or investing more resources in social media and content development, marketers at smaller, start-up-type high-tech companies can put ideas into effect fairly quickly. At such companies, the whole notion of marketing grew organically as existing employees added the marketing hat to roles they were already playing. But marketers at older companies that perhaps once dominated their sector are more likely to be put in a silo and have to fight to air their ideas.
More than 50 marketing and PR pros attended the CMO Roundtable; 46% described the process their organization uses to plan, execute and measure marketing and/or PR activities as "formal," while 48% described the process as "informal." Nearly 30% of attendees said they began the planning process for 2013 in October 2012, and 14% said they will begin the planning process in November 2012.
PR News will publish complete results of the CMO Roundtable attendee survey in mid-November.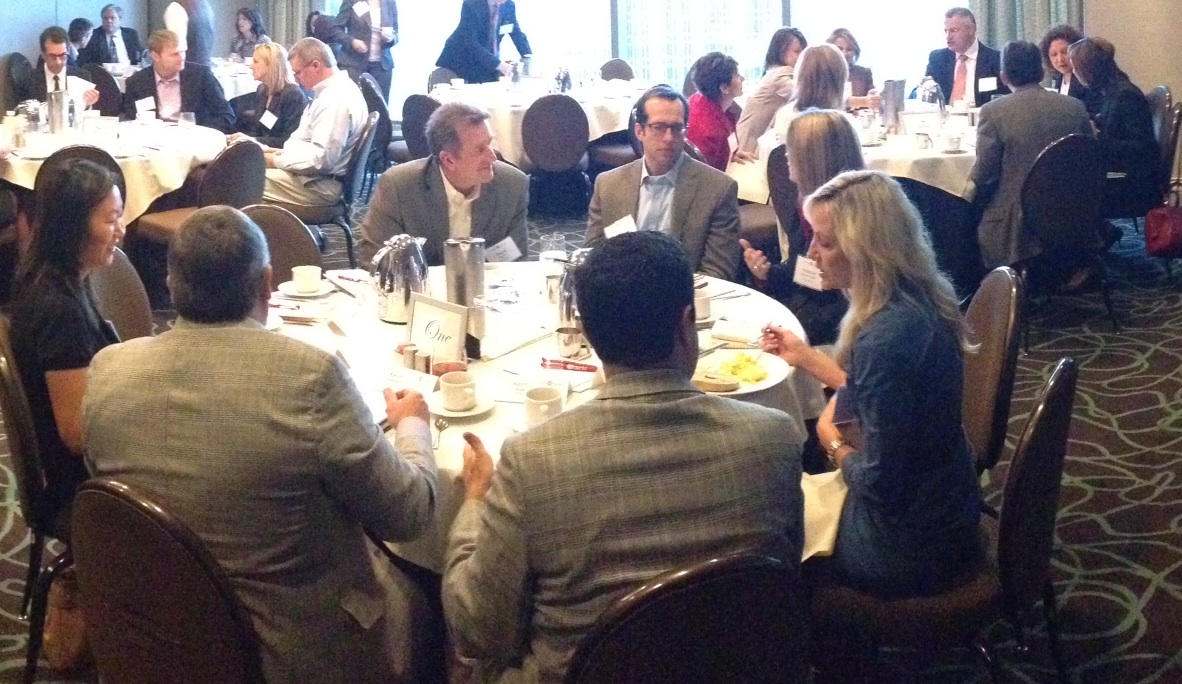 The High-Tech CMO Roundtable, sponsored by Arketi Group and PR News.
Follow Steve Goldstein: @SGoldsteinAI