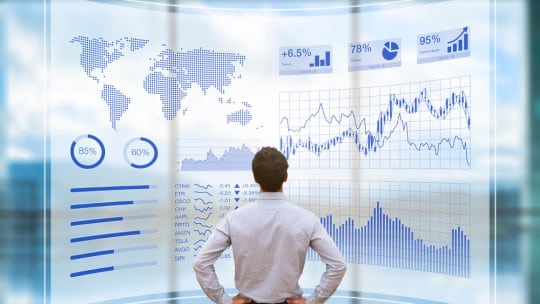 How many times have you heard communicators say, "If I can just get the right dashboard, my work life will be so much better"? Sadly, those communicators are suffering from the dashboard-as-magic-bullet syndrome. It's a very common malady, Katie Paine, CEO, Paine Publishing, and Johna Burke, EVP, BurrellesLuce said this morning during the PR News Measurement Conference in Washington, D.C. While it's true that a dashboard should "make your life easier," Paine says, "they are not the silver bullets of PR," Burke adds.
A much better way to think about dashboards, the two say, is that they are great for "counts and amounts," as Burke notes, but that human insight into the dashboard's data is what will get you that "bottle of champagne, a promotion, a raise and added vacation."
The dashboard, they say, is another tool, an important one to be sure, but not the be-all, end-all. Dashboards can be used well or badly, built well or badly. For example, data can be easy or hard to find on your dashboard (easy is preferred, obviously; if it takes more than 15 minutes to find data, it's too long). A dashboard can contain numbers you are unable to explain (a no-no). It can also feature charts that are hard to read or that people won't understand, obviously these should be avoided.
OK, so where to start? Fortunately, beginning to create a dashboard for your brand starts the same way so many other PR efforts do, the two say: by agreeing on business goals and what success looks like for your organization. Have a conversation, Paine says, with your senior leaders about how PR should contribute to those outcomes. Once you've done this, here are more steps on the road to producing the ideal dashboard for your brand:
• Audit data sources and tools: Define the data you'll need for your dashboard, decide who has it (your marketing and finance departments can be helpful, Paine and Burke say) and how you will weave it together.
• Define your metrics and benchmarks: Get agreements on what metrics you will track and who or what are you going to compare your results with and against. Avoid using data that you lack buy-in for.
• Build the prototype and test your metrics: Use a prototype to get buy in from your boss' boss and test your metrics. Make certain your metrics are aligned with your brand's business goals and get approvals.
• Find your aha moment (by integrating data) and improve: Find your insights, turn them into action by suggesting ways that you can improve business outcomes and continue to measure.
Follow Seth: @skarenstein